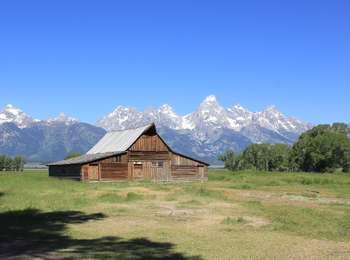 Wheelchair Accessible, Restroom
The T.A. Moulton barn is an iconic structure in Jackson Hole. The sunrise view with the barn in the foreground and the Teton Range as the backdrop is one of the most photographed locales in the valley.

Thomas Alva (T.A.) Moulton and his brother John homesteaded on Mormon Row in 1908. T.A. built a frame house in 1915 and dry farmed grain until the state built irrigation ditches to their property in the late 1920s. In 1930, the Snake River Land Company met with the Mormon Row settlers and many sold their property with most securing lifetime leases. By the 1950s, few remained.
Last updated: November 7, 2021