Place
Springer's Point Nature Preserve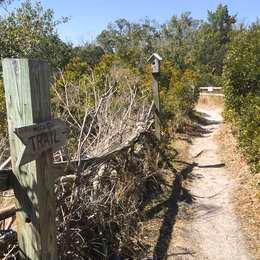 Significance:
Hiking Trail
Historical/Interpretive Information/Exhibits, Scenic View/Photo Spot, Trailhead
Springer's Point Nature Preserve is only accessible by foot or bicycle, and parking is prohibited on the road and private driveways. The trail and reserve are owned and operated by the North Carolina Coastal Land Trust. Encompassing more than 120 acres, the preserve is home to maritime forest, tidal red cedar forest, salt marsh, wet grasslands, and sound-front beach.

In 1718, the pirate Blackbeard camped in this area in the days leading up to his defeat and death. The water off Springer's Point-called Teach's Hole-is known to be where the final battle between Blackbeard and the British Royal Navy occurred. Now, a pleasant stroll through the maritime forest leads out to views of Ocracoke Inlet and Cape Lookout National Seashore beyond.
Last updated: February 10, 2021