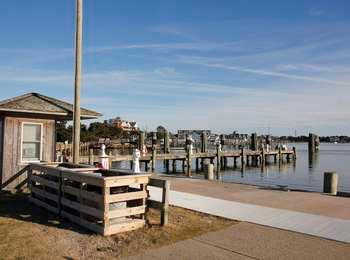 Benches/Seating, Bicycle - Rack, Boat Ramp, Canoe/Kayak/Small Boat Launch, Cellular Signal, Dock/Pier, Electrical Hookup - Boat/RV, Ferry - Passenger, Ferry - Vehicle, Information, Information Kiosk/Bulletin Board, Parking - Auto, Parking - Boat Trailer, Parking - Bus/RV, Picnic Shelter/Pavilion, Recycling, Restroom - Accessible, Scenic View/Photo Spot, Trash/Litter Receptacles, Water - Drinking/Potable, Wheelchair Accessible
Silver Lake Harbor is a clam-shaped basin on the sound-side of the island, around which the village of Ocracoke has grown.

The harbor is usually bustling with boats, skiffs, sailboats, yachts, and ships. These boats range from the giant North Carolina state-run ferries to privately owned vessels just popping in for a tour or an elongated stay.

Gorgeous sunsets over the harbor and Pamlico Sound are simply stunning, especially with the dozens of boats that inevitably return with every sunset to dock up for the night.
Boat Slips
There are multiple slips for boats up to 80 feet long.  
Last updated: March 23, 2021