Place
Sentinel Dome and Taft Point Trailhead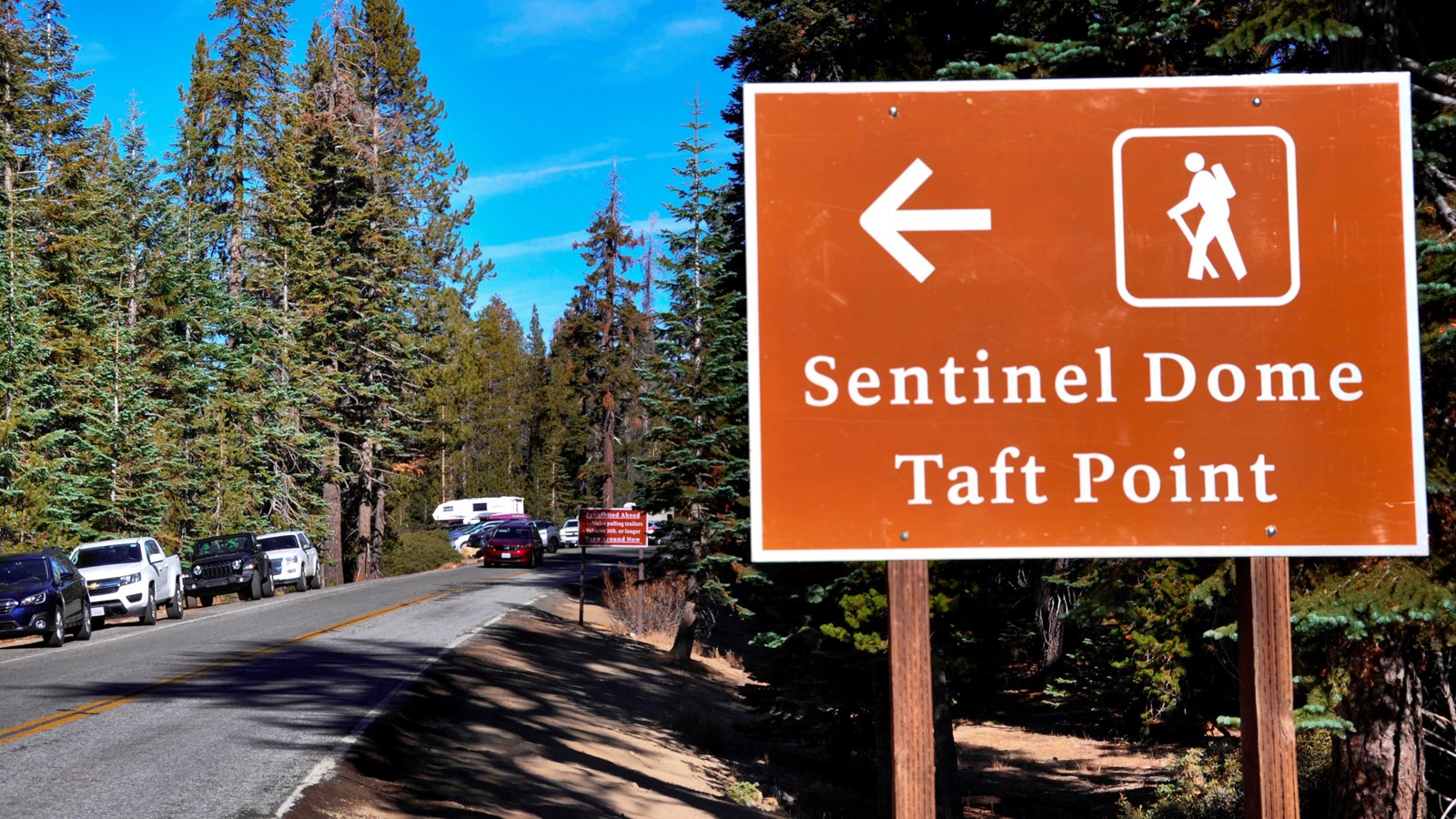 Expect 30-minute delays along the Glacier Point Road, Monday through Friday, 6 am to 9 pm. 
Sentinel Dome (Moderate)
This wide trail leads mostly across open granite with little shade. Scramble up Sentinel Dome's granite slope to enjoy a breathtaking 360-degree view of the park. Consider taking this hike at sunset or during a full moon, but remember to bring a flashlight with fresh batteries!
1.8 miles (2.9 km) round-trip; 2 hours,
400 ft (125 m) elevation gain
Taft Point (Moderate)
Enjoy magnificent views of Yosemite Valley, including El Capitan and Yosemite Falls. Near Taft Point, you'll see The Fissures-narrow fractures in the granite called joints. Watch out for drops of up to 2,000 feet at these fractures!
2.2 miles (3.5 km) round-trip; 2 hours,
200 ft (60 m) elevation gain
The Sentinel Dome and Taft Point trails can be combined into a loop hike.
Sentinel Dome and Taft Point Loop (moderate)
4.9 miles (7.9 km) loop; 3-4 hours,
1,000 ft (300 m) elevation gain
Hours
These trails are only accessible when the Glacier Point Road is open, approximately late May through October or November.
When Badger Pass Ski Area is open (mid to late December through March), the Glacier Point Road is groomed for cross-country skiing beyond the ski area. See website for more information.
Getting Here
Located along the Glacier Point Road. From Yosemite Valley or Wawona, take the Wawona Road (Highway 41), then turn east onto Glacier Point Road.
Rules & Regulations
Stay on established trails
Pets are not allowed on hiking trails
Pack out what you pack in
The Glacier Point Road closes after the first significant snowfall. Overnight parking is prohibited beginning October 15. For current road and weather information, please call 209/372-0200.
Hazards & Warnings
Carry (and drink) plenty of water: a leading cause of injuries on the trail is dehydration. Be sure to treat stream or spring water.
Always carry a map and compass, and know how to use them, and wear sturdy footwear with good traction.
Be prepared for sudden changes in weather and conditions.
Accessibility
These trails are not accessible.
Last updated: July 18, 2023