Place
Sentinel Beach Picnic Area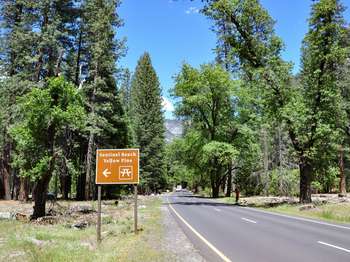 Picnic Table, Recycling, Restroom, Trash/Litter Receptacles, Wheelchair Accessible
Savor the moment while standing amidst the magnificent landscape before you, a landscape showcasing views of Sentinel Rock and surrounding cliff faces.

Picnic tables and grills are conveniently located at this scenic spot along the Merced River that offers views of Sentinel Rock and surrounding cliff faces.

Hours:
This picnic area is available from dawn to dusk.

Getting Here:
Sentinel Beach Picnic Area, is located on Southside Drive, several miles east of Bridalveil Fall.

Rules & Regulations:
Picnic areas are available on a first-come, first-served basis (reservations are not available).

Hazards & Warnings:
For your safety and that of wildlife:
Keep your distance from animals, even if they approach you.
Never feed wild animals.
Dispose of trash in bear-proof trash cans or dumpsters.
While enjoying your picnic, keep your food, trash, and other scented items within arm's reach.
If a bear approaches, yell as loudly as possible to scare the bear away.
Yosemite's water can be deceptively dangerous and unforgiving. Visitors are strongly urged to enjoy swift-moving or high water from a safe distance, especially in the spring.

Accessibility:
The Sentinel Beach Picnic Area features accessible picnic tables with extended tops, accessible vault toilets, and grills. Parking is nearby.
Last updated: November 7, 2021