Place
San Miguel Island — tuqan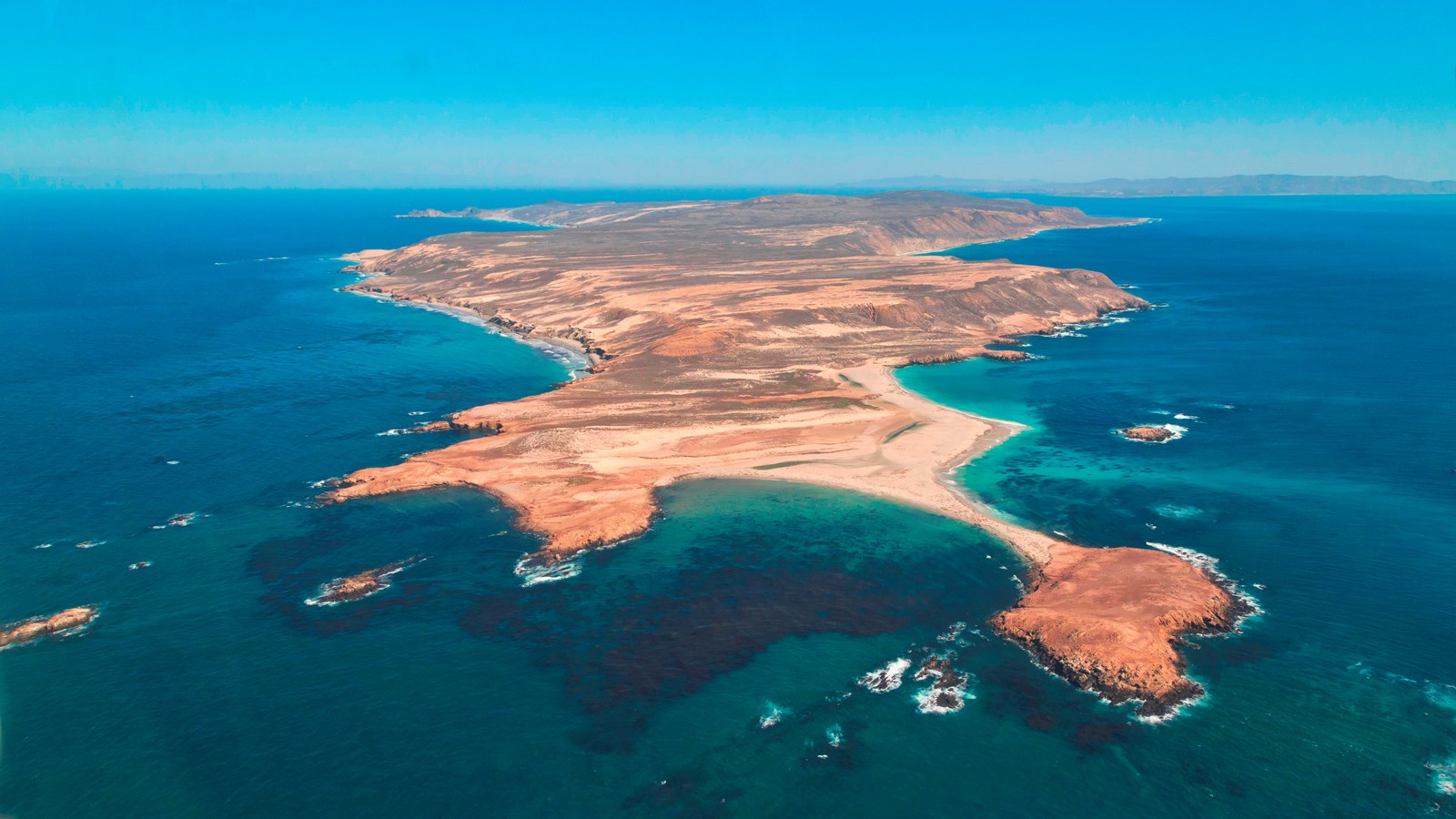 tuqan is the Chumash word for San Miguel Island. It means 'a small piece,' but it is suspect this is more of a descriptive explanation than a translation of the word.

Please see "Ethnographic Island Place Names" below for more information on island place names.

Wind and weather constantly sweep across the North Pacific to batter the shores of the westernmost of all the islands, San Miguel. This extreme weather creates a harsh but profoundly beautiful environment. The 9,500-acre island is primarily a plateau about 500 feet in elevation, but two 800-foot rounded hills emerge from its wild, windswept landscape. Although lush native vegetation covers this landscape today, a century's worth of sheep ranching and overgrazing caused scientists in 1875 to describe the island as "a barren lump of sand." With the grazing animals removed, vegetative recovery is in progress. Giant coreopsis, dudleya, locoweed, lupine, buckwheat, coastal sagebrush, and poppies are all recolonizing the island to their former extent, returning San Miguel to its more natural state.

Also making a comeback, after years of hunting, are the thousands of pinnipeds (seals and sea lions) that breed, pup, and haul out on the island's 27 miles of isolated coastline. Hikers who make the all-day, ranger-guided, 16-mile round-trip hike across the island to Point Bennett will never forget seeing one of the world's most spectacular wildlife displays-over 30,000 pinnipeds and up to five different species hauled out on the point's beaches at certain times of year.

Other wildlife include the island fox and deer mouse. Both of these little creatures are endemics-they are found only on the Channel Islands. The island fox, the size of a house cat, is the largest land animal on the island. In the waters surrounding San Miguel, the marine animals get much larger. Dolphins and porpoises are often spotted along with gray whales, killer whales, and the largest animals of all, blue whales.

In the spring and summer the skies are filled with birds. Boaters entering Cuyler Harbor receive a greeting from western gulls, California brown pelicans, cormorants, and Cassin's auklets that nest on Prince Island. Black oystercatchers, with their bright red bills and pink feet, feed along the beach. Terrestrial residents include the western meadowlark, rock wren, and song sparrow, an endemic subspecies. Peregrine falcons have recently been restored to the island and are nesting successfully once again after years of decimation by the pesticide DDT.

In addition to the variety of natural resources, San Miguel hosts an array of cultural resources as well. The Chumash and their ancestors lived on San Miguel almost continuously for nearly 12,000 years. Today there are over 600 fragile, relatively undisturbed archeological sites. The oldest one dates back to 11,600 years before the present-some of the oldest evidence of human presence in North America. Juan Rodriguez Cabrillo and his men laid eyes on San Miguel Island in 1542. Upon claiming the island for the Spanish crown, Cabrillo named it "La Posesion." Some stories say that Cabrillo wintered and died on San Miguel Island. No one knows where Cabrillo is buried, but there is a memorial commemorating the explorer on a bluff overlooking Cuyler Harbor.

Other outstanding island resources that visitors may experience on San Miguel include the caliche forest (sand-castings of ancient vegetation), fossil bones of the Pleistocene pygmy mammoths that stood four to six feet at the shoulders, 150 years of ranching history, and numerous shipwrecks. Whether you are interested in life of the past or life of the present, San Miguel Island has it in abundance. Visit, explore, and enjoy.
 
Island Facts
- Located in Santa Barbara County.

- Seventy miles from Ventura; 26 miles to the nearest mainland (Point Conception); three miles west of Santa Rosa Island.

- San Miguel is approximately four miles wide by eight miles long; 14 square miles; 9,325 acres.

- Average rainfall-15 inches.

- Tallest peak-San Miguel Hill, 831 ft.

- Over a dozen Channel Islands endemic plants occur on San Miguel Island.

- The endemic island fox and deer mouse and introduced rat are the only land mammals found on San Miguel Island.

- Up to five different pinniped species and over 30,000 individuals can be found at Point Bennett, one of the largest concentrations of wildlife in the world.

- One of the oldest known American Indian archeological sites (11,600 years ago) is on San Miguel Island.

- San Miguel Island and its associated islets support one-third of the breeding seabirds in the Channel Islands.

Things To Do
One-day trips, multi-day boat trips, and overnight camping are all options when visiting San Miguel Island. However, this island is more challenging to get to and the weather can be windy at anytime of year-30 knots of wind is not uncommon. Therefore, visitors must be prepared for adverse weather. As with all the Channel Islands, visiting San Miguel Island is an exercise in preparation and self-reliance. Since there are no services on the islands, there are no remedies for poor planning once you have arrived.

Access By Permit Only
A permit (including liability waiver) is required to visit the island. If you are traveling to San Miguel Island with Island Packers, Channel Islands Aviation, or Truth Aquatics, they will provide the forms to you upon your reservation. Private boaters can obtain the forms at a self-registration station at the Nidever Canyon trail head entry on San Miguel Island. It is the responsibility of private boaters to contact the park to ensure the island is open before coming ashore. Visitors are required to stay on the designated island trail system. No off-trail hiking is permitted. The island was a former bombing range and there are possible unexploded ordnance. In addition, visitors must be accompanied by a ranger beyond the ranger station. When not accompanied by a ranger, visitors may explore Cuyler Harbor beach, Nidever Canyon, the Cabrillo Monument, and the Lester Ranch site.

Boat Transportation
Island Packers offers trips spring through fall. Travel time is about four hours. Strong winds and rough seas are possible. Landing is at Cuyler Harbor via skiff onto a beach. Visitors must be prepared to waterproof gear and possibly get wet. Multi-island, overnight boat trips frequently visit San Miguel Island as well.

Plane Service
On a trial basis, Channel Islands Aviation offers trips year round. Travel time is about 60 minutes Landing is at a graded dirt airstrip above near the ranger station above Cuyler Harbor.

Goods and Services
There are no goods, services, or accommodations (lodging) available on the island. Visitors must bring all their own food and supplies. Public phones are not available.

Water
There is no water available on the island. Visitors must bring all their water with them.

Picnicking
There are no tables available for picnicking on the island. If weather permits, many visitors enjoy picnicking at Cuyler Harbor beach.

Visitor Center
There is no visitor center on San Miguel Island. Please check with a ranger or volunteer for island information or visit our visitor center in Ventura.

Interpretive Programs
At Cuyler Harbor, rangers and volunteer naturalists offer guided hikes soon after the Island Packers boats arrive on the island. A variety of guided hikes are offered during weekends that Island Packers drops off campers. In addition, private boaters may arrange for a guided hike by contacting the San Miguel Island ranger on marine radio channel 16 or by contacting park headquarters at 805-658-5730.

Hiking
Several trails traverse San Miguel Island providing visitors with spectacular hiking opportunities. While many parts of the island are closed to protect wildlife, fragile plants, and geological features, several areas are open for you to explore. Visitors may explore the two-mile long-Cuyler Harbor beach and one-mile-long trail to the ranger station on their own. To see other parts of the island, such as Point Bennett or the caliche forest, you must go with a ranger or volunteer. As described above, they are usually available to lead hikes. All hikers must stay on the trails to protect fragile vegetation and for visitor safety. No off-trail hiking is allowed.

Camping
Primitive camping is only available at the established campground near the historic Lester ranch site (nine sites; $15 per night per site; reservations required). Picnic table, food storage box, windbreak, and pit toilet are provided. Water is not available and there is no shade. Distance from the boat landing at Cuyler Harbor beach to the campground is a steep, uphill over one-mile hike. Pack gear in backpacks for hauling uphill and waterproof for a possible wet landing. Campers should be prepared for a variety of weather conditions. Thirty-knot winds are not uncommon. Sturdy, low-profile tents, stakes, and line for securing tents to ground, table, or wind shelters are recommended. Fog can occur during any season producing cool, damp conditions. Due to the boat schedule, minimum stay is generally three days.

Watersports
Due to the strong, persistent wind,swimming, snorkeling, diving, and kayaking are limited and recommended for the experienced visitor only. In addition, landing and beach access is only allowed at Cuyler Harbor. Despite the wind, Cuyler Harbor is one of the most scenic beaches in the park.

Fishing
No fishing is allowed within the marine reserves located around the island. Fishing is allowed outside of these areas. To fish in Channel Islands National Park, possession of a valid California state fishing license with an ocean enhancement stamp is required and all California Department of Fish and Game regulations apply.

Wildlife/Wildflower Viewing
The reward for enduring the long boat ride, the wind, and the fog is exceptional wildlife viewing. Although the guided, 16-mile roundtrip hike to Point Bennett requires some stamina, visitors get a chance to see one of the largest congregations of wildlife in the world-over 30,000 animals and up to five different species. Cuyler Harbor offers exceptional seabird viewing thanks to Prince Island that hosts 13 nesting seabirds, making it one of the most important and biologically diverse nesting habitats on the West Coast of North America. There is also very good seabird viewing on the boat ride over. Tell boat staff you are interested in seeing seabirds and they will help keep a lookout. Given the wind, landbirds are best spotted in Nidever Canyon. The island fox is secretive, but is occasionally seen around the campground area. San Miguel Island's native vegetation has made a remarkable recovery after years of grazing by nonnative animals. In some spots, the island coreopsis are head high. During a normal year of rainfall, wildflowers are best viewed in late winter and spring. In addition, some plants like gumplant, buckwheat, poppies, and verbena continue to bloom during the summer. Fortunately, the only accessible tidepool location on the island happens to be a very good one. No ranger escort is needed to hike to the tidepools at the eastern end of Cuyler Harbor.

Ethnographic Island Place Names
Ethnographic island place names aid in native language revitalization, illustrate cultural values, and provide tangible connections to cultural landscapes and seascapes.

Many of these place names were recorded by ethnographers and anthropologists in the late 1800 and early 1900s. J.P. Harrington was an ethnographer who worked for the Smithsonian Institution in Washington, D.C., from 1915 to 1955. He interviewed American Indian consultants, including Chumash and Gabrielino Tribal members, and recorded information about native languages and culture.

Chumash Indians Fernando Librado (Kitsepawit) and Juan Estevan Pico were the main sources for island place names. They were both born and raised in Ventura. They learned of the island places from Chumash elders, most notably Ursula (of wima) and Martina (of limuw.) Pico's interviews of Martina resulted in a list of island place names given in order from east to west (or vice/versa,) to anthropologist, H.W. Henshaw. Anthropologists have cross-referenced Pico's list with the archeological record, baptismals, and marriage patterns.

Twenty-six new place names were recently identified and mapped by Mark Vestuto (Barbareño/Ventureño Band of Mission Indians; Advocates for Indigenous California Language Survival) with assistance from Kristin Hoppa (Archeologist, Channel Islands National Park) and the Chumash community. These names reference island peaks, water, landforms, islets, trails, caves, and beaches.

Please note that lowercase is used because capitalization is a convention in English which poses problems in the writing of native languages.
Last updated: May 25, 2021