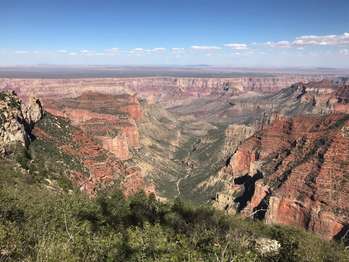 Significance:
Scenic Overlook
Historical/Interpretive Information/Exhibits, Scenic View/Photo Spot
Named in honor of the 26th President of the United States and his efforts to preserve the Grand Canyon, Roosevelt Point offers another spectacular view of Grand Canyon's North Rim and the Painted Desert.

Limited parking is available at this pullout on Cape Royal Road. To the left of a rock bearing the Theodore Roosevelt plaque, a short trail leads through overgrowth to an overlook. Here, a USGS medallion marks the end of the trail.
History
A staunch conservationist, avid outdoorsman and hunter, Theodore Roosevelt cared about natural resources with a burning passion. He is also said to have rode a mule down the Bright Angel Trail in 1903 to tell the Havasupai people they had to leave their home, now Indian Garden, to create a National Park.

During his first visit to Grand Canyon in May 1903, Theodore Roosevelt proclaimed, "Leave it as it is. You cannot improve upon it. The ages have been at work on it, and man can only mar it."

On June 8, 1906, Roosevelt signed into legislation the Antiquities Act , which enabled the President "...to declare by public proclamation historic landmarks, historic and prehistoric structures, and other objects of historic or scientific interest that are situated upon the lands owned or controlled by the Government of the United States to be national monuments.."

On January 11, 1908, Roosevelt officially recognized the significance of Grand Canyon by using this same order to proclaim it a national monument. In 1919, three years after the creation of the National Park Service in 1916, it was officially designated as a national park.

In his time as President of the United States, 'Teddy' used his authority to protect wildlife and public lands in unprecedented fashion. He created the United States Forest Service (USFS) in 1905 and established 150 national forests. In addition, Roosevelt also authorized the creation of 51 federal bird reserves, 4 national game preserves, 5 national parks, and 18 national monuments under the Antiquities Act. In total, Theodore Roosevelt protected approximately 230 million acres of public land.

Today, the legacy of Theodore Roosevelt, both positive and negative, is found across the country. There are six national park sites dedicated, in part or whole, to our conservationist president. You can find more information about these places, including North Dakota's Theodore Roosevelt National Park, under these related websites .
Last updated: December 13, 2022