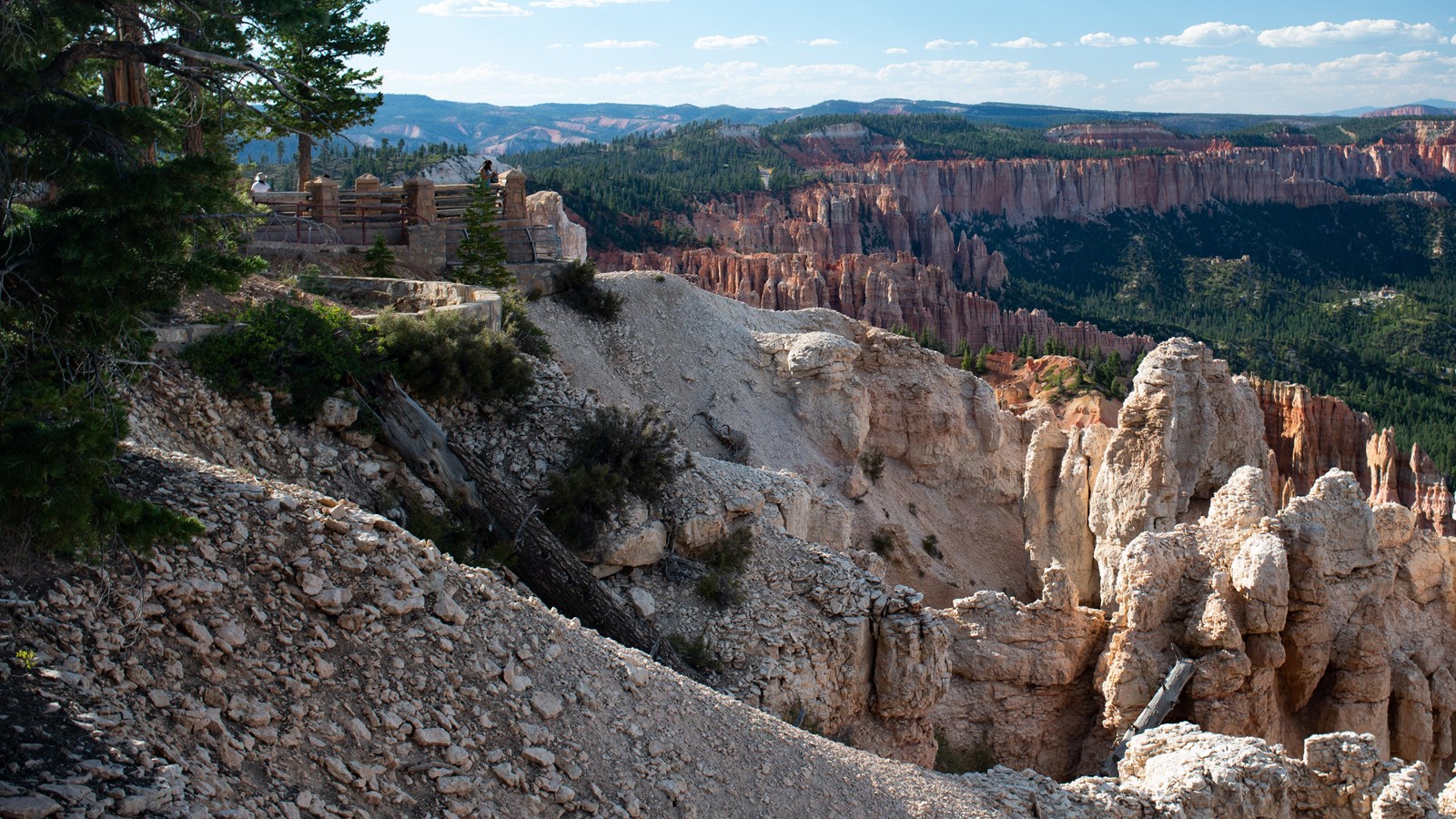 Location:
Found at the southern end of the main park road.
Significance:
Along with Yovimpa Point it is the highest elevation viewpoint in the park.
Bicycle - Rack, Historical/Interpretive Information/Exhibits, Picnic Table, Recycling, Restroom, Trash/Litter Receptacles, Wheelchair Accessible
At 9,115 ft (2,778 m) this and Yovimpa Point are the highest viewpoints in the park. Tectonic uplift has lifted this entire scene from sea-level over the course of the last 20 million years to later be dissected by tributaries of the Paria and Colorado Rivers. Tilting that occurred during uplift has situated the southern end of the park approximately 1,000 ft (304 m) higher than its northern end near the Visitor Center. Here erosion has been at work far longer than the Bryce Amphitheater, and undercut sheer cliffs compose much of the view along the edge of the Paunsaugunt Plateau.
Trails
A short path along the plateau edge leads west to the easy 1.0 mi/1.6 km Bristlecone Loop, as well as the 8.8 mi/14.2 km backcountry Riggs Spring Loop and 23 mi/37 km Under-the-Rim Trail.
Landscape Features
To the North
View the eroded edge of the Paunsagunt Plateau, carved by rain and melting snow into bowl-shaped amphitheaters, which drain to the Paria River and then the Colorado River. Atop the Markagunt plateau to the northwest and the Paunsaugunt plateau in the north, the Tushar Mountains and Sevier plateau (or Black Mountains) can be seen. These were created through volcanic activity associated with the uplift of the Colorado Plateau.
To the East
Below the iron-oxide colored limey mudstones of the Pink Cliffs of Bryce Canyon, the valley of the Paria river exposes marine shales of the Grey Cliffs and further south, sandstones of the White Cliffs. The Pink Cliffs as seen in the Table Cliff Plateau can be seen rising to 10,000 ft (3048 m) along the opposite side of the valley.
to the West
Across the Paunsagunt Plateau, peaks of the Black Mountains, and further off the Tushar mountains can be seen. Water which falls upon the forested top of this plateau drains not to the Colorado River, but west and north along the Sevier River towards Nevada. The edge of the plateau is therefore a watershed between the Colorado River and the Great Basin desert of Nevada.
To the South
Views to the south can be best appreciated across the parking lot at Yovimpa Point or along the Bristlecone Loop Trail.
Last updated: November 7, 2021