Place
Platte River Campground & Ranger Station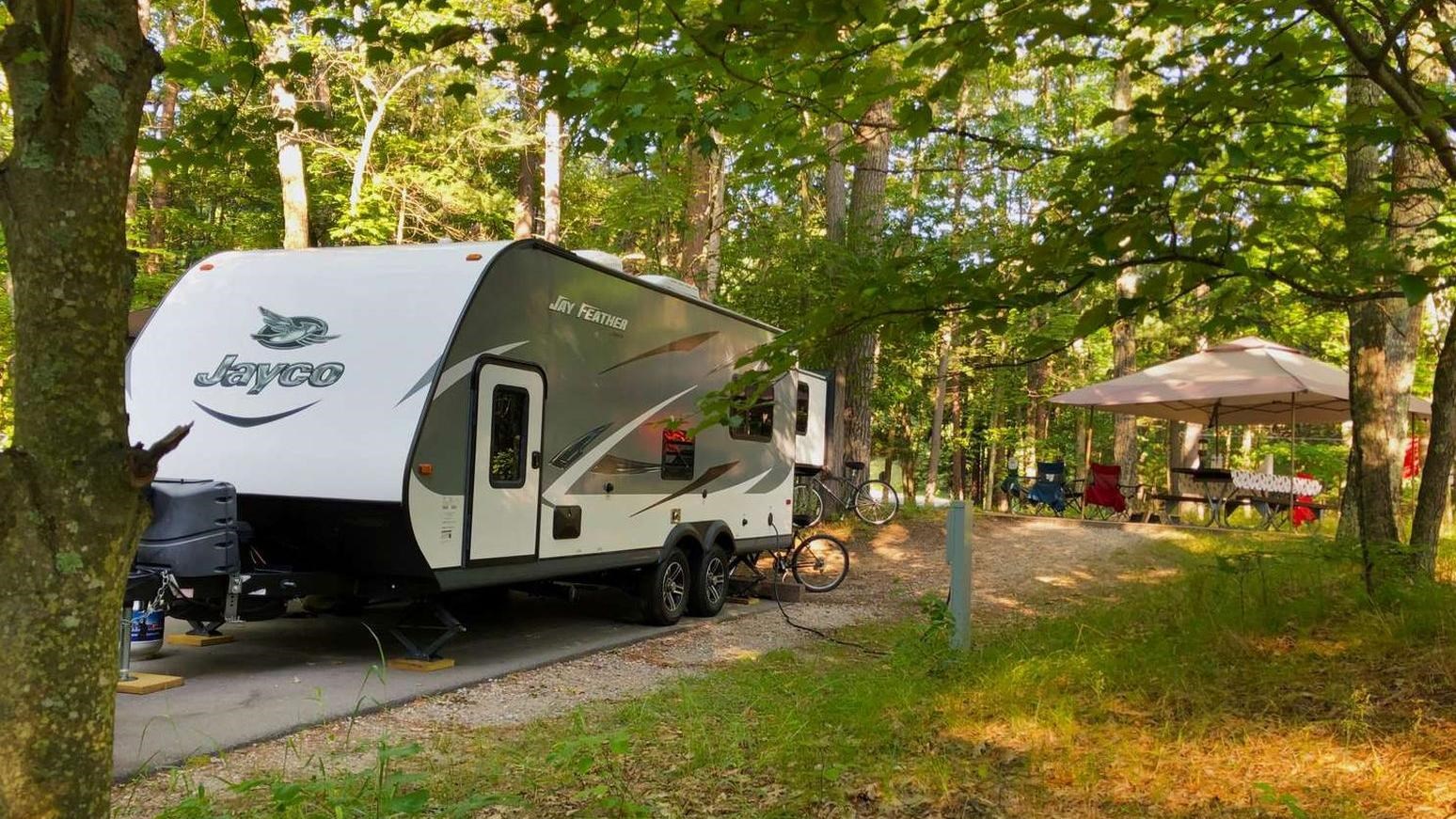 Accessible Sites, Amphitheater, Animal-Safe Food Storage, Assistive Listening Systems, Benches/Seating, Bicycle - Rack, Entrance Passes for Sale, Fire Extinguisher, First Aid Kit Available, Information - Maps Available, Information - Park Newspaper Available, Information - Ranger/Staff Member Present, Information Kiosk/Bulletin Board, Internet/WiFi Available, Parking - Auto, Parking - Bus/RV, Picnic Shelter/Pavilion, Picnic Table, Restroom, Sewage Dump Station - Boat/RV, Showers, Trash/Litter Receptacles, Water - Drinking/Potable, Wheelchair Accessible
We've heard it referred to as "the Cadillac of all campgrounds," and we agree. This year-round facility is one of the most popular campgrounds in the state. A wonderfully quiet, spacious and green, peaceful spot in the southern end of the park, the campground's sites are paved and well-separated, with trees for privacy and large outside areas containing a picnic table, tent pad, and fire pit.

Platte River Campground offers a wide variety of camping styles. You can find tent sites and back-in and pull-through sites for RV's, including electrical hookups. The sites accommodate vehicle sizes from 30 feet up to 50 feet in length. No generators are allowed.

Talk about location, location, location. If you are here to visit Sleeping Bear Dunes, the Platte River Campground rocks. Campers can hike to the beach along the railroad grade trail accessible from each campground loop and access many of the area's day use and backpacking trails just north of the campground. The campground is only a 15-20-minute or so drive to every overlook, hiking trail, and sightseeing location. It is within walking distance of the Platte River and a short walk or drive away from the Lake Michigan shore.

Reservations
Campers wishing to reserve a campsite can make a reservation up to six months in advance for arrival dates of May 15 through October 15 by calling 1-877-444-6777 or online at www.recreation.gov. Group campsites may be reserved one year in advance.

Facilities
96 campsites with electrical hook-up for 1-6 persons.
53 campsites with no electrical hook-up for 1-6 persons.
25 walk-in tent sites for 1-6 persons.
5 group tent sites for 7 - 25 persons. No pets.

Platte River Campground has eight campsites that are wheelchair accessible: four are electric sites; two are non-electric, one walk-in non-electric site, and one electric group site. These sites have a hardened pad, a fire ring and a raised grill, and are located near accessible restrooms, showers and water. The Ranger Station offices and parking are also accessible.
Last updated: June 28, 2023