Place
Panoramic Point Overlook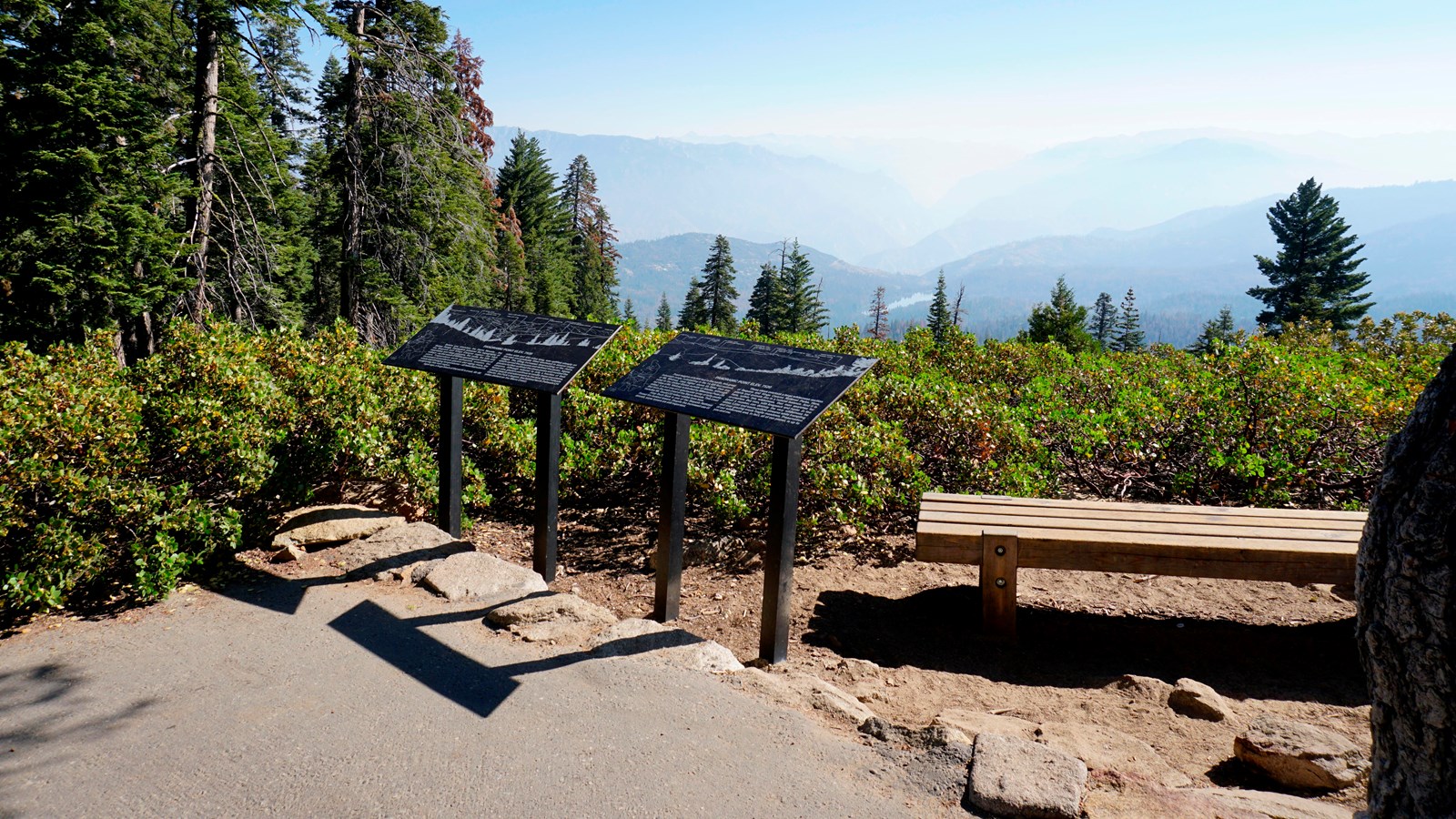 Location:
Kings Canyon National Park
Audio Description, Benches/Seating, Historical/Interpretive Information/Exhibits, Scenic View/Photo Spot, Wheelchair Accessible
This overlook is located a short driving distance from the Kings Canyon Visitor Center. Look outward from Panoramic Point across hundreds of miles of Kings Canyon National Park and neighboring national forest lands. Below lies Hume Lake, a small historic lake in Sequoia National Forest that was created in 1908 using a rare multiple-arch dam. The lake water fed a flume that floated timber down to the valley. Beyond, lies the deep glacial gorge of the Kings Canyon itself and a wealth of the High Sierra's peaks.

The area before you has a rich history. In the 1890s, artist Bolton Brown climbed many peaks to learn about and paint the area more accurately. Beginning In the late 1920s, poet Kenneth Rexroth often hiked here and wrote about this area. James Hutchings also spent time here, developing his Illustrated California magazine in the 1850s to bring attention and protection to the High Sierra. The likes of John Muir, Stephen Mather, George Moskey, and Horace Albright spent time here discussing how to develop a national park system.

This is also home to countless species of plants and animals, from the alpine zone, where cold-tolerant species like pika and foxtail pines live, to the foothill zone, where heat-tolerant life thrives year round. You can also see the effects of fires that have passed through, leaving the forest healthier and stronger.

You can also continue past the overlook on a more difficult 2.6-mile unpaved hike to the Park Ridge Fire Lookout. If the lookout volunteers are in, they may give you access and a tour of the view.
Accessibility
The half-mile trail to the viewing area is accessible, leading visitors to a stunning view overlooking the Sierra Nevada. The trail leads up a moderately-sloped path with cross slopes that may be difficult for some individuals to navigate.

The area also has an accessible parking stall, restrooms, and picnic tables.
Winter Access
To access this area in winter, you will need to hike, snowshoe, or ski into the area.
Last updated: December 7, 2021