Place
Panorama and Pohono Trailheads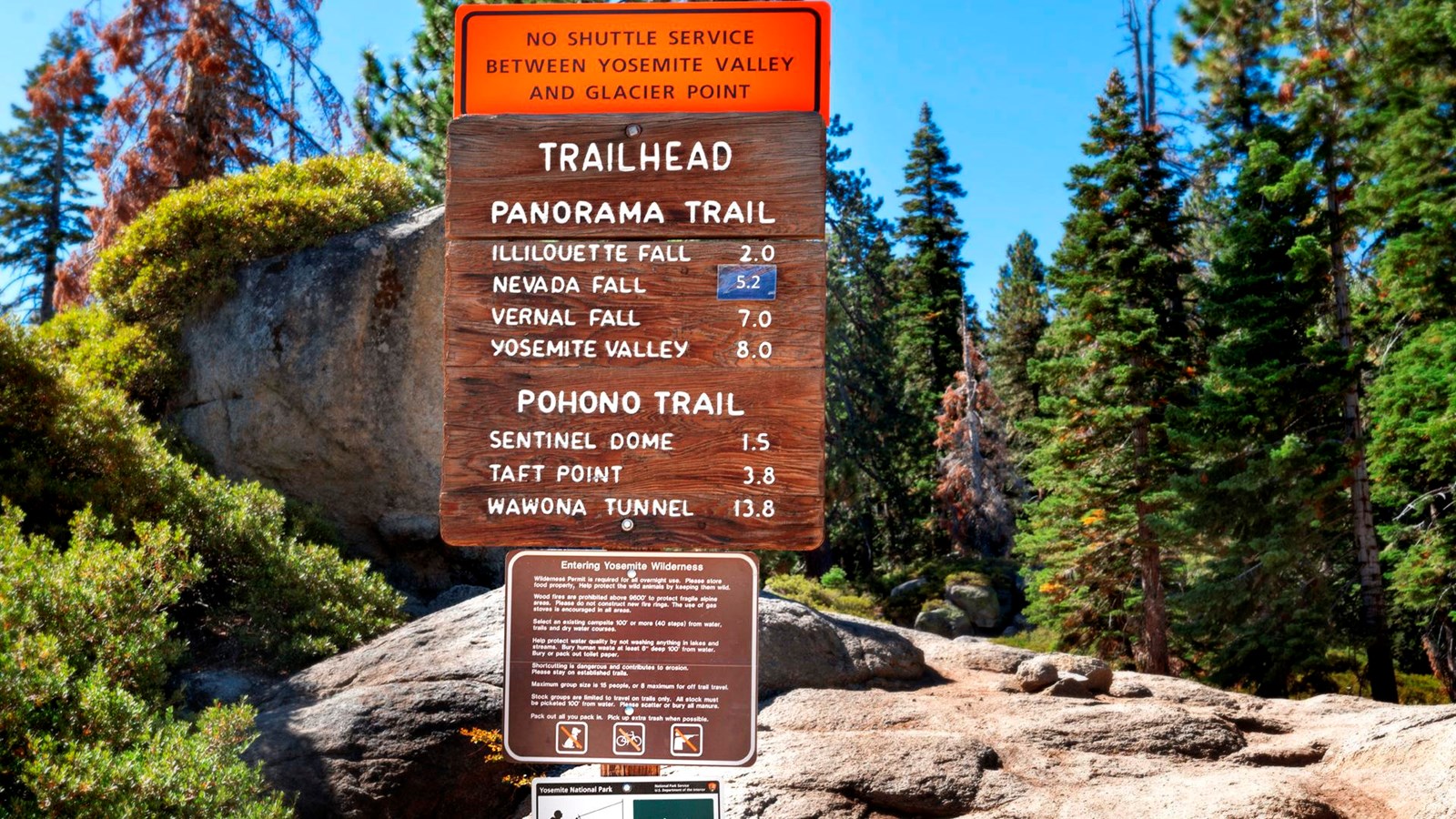 Panorama Trail (strenuous)
This longer route to Yosemite Valley brings hikers past Illilouette, Nevada, and Vernal Falls. Combining this trail with the Four Mile Trail will make for a long, even more strenuous loop! Some of Yosemite's most iconic natural features can be seen and experienced along this trail.
8 miles (12.8 km) one-way; 6 hours,
3,200 ft (975 m) elevation descent
When the Glacier Point Tour is operating, the Panorama Trail can be hiked one-way during the summer by purchasing a one-way bus ticket between Yosemite Valley and Glacier Point. RESERVATIONS ARE REQUIRED. Do not start this hike without making prior arrangements. Visit any tour and activity desk for details. Tour not operating in 2023.
Pohono Trail (strenuous)
This trail rewards hikers with several viewpoints of Yosemite Valley from the south rim. East to west, these views include Taft Point, Dewey Point, Crocker Point, and Stanford Point. An optional 0.5 mile (0.8 km) side trail gains the summit of Sentinel Dome.
13.8 miles (22.2 km) one-way; 8-10 hours,
2,800 ft (975 m) elevation descent
Hours
This trailhead is only accessible from Glacier Point when the Glacier Point Road is open, approximately late May through October or November.
Getting Here
This trailhead is located at the Glacier Point parking area. From Yosemite Valley or Wawona, take the Wawona Road (Highway 41), then turn east onto Glacier Point Road.
Rules & Regulations
Stay on established trails
Pets are not allowed on hiking trails
Pack out what you pack in
The Glacier Point Road closes after the first significant snowfall. Overnight parking is prohibited beginning October 15. For current road and weather information, please call 209/372-0200.
Hazards & Warnings
Carry (and drink) plenty of water: a leading cause of injuries on the trail is dehydration. Be sure to treat stream or spring water.
Always carry a map and compass, and know how to use them, and wear sturdy footwear with good traction.
Be prepared for sudden changes in weather and conditions.
Accessibility
These trails are not accessible.
Last updated: October 30, 2023