Place
Old Faithful Snow Lodge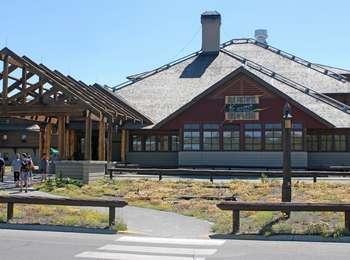 Designation:
Part of the Old Faithful Historic District
Accessible Rooms, Bicycle - Rental, Food/Drink - Bar/Alcohol For Sale, Food/Drink - Restaurant/Table Service, Gifts/Souvenirs/Books, Internet/WiFi Available, Restroom, Ski Rental, Toilet - Flush
The Old Faithful Snow Lodge is the newest of the park's full service hotels, with heavy timber construction, exterior log columns, and a cedar shingle roof. This reservable lodging facility is operated by a park partner.
National Historic District
The Old Faithful Historic District was listed on the National Register of Historic Places in 1982. It includes the Old Faithful Inn and many of the surrounding buildings. The district is historically significant because of its rustic architecture and its role in the development of concessions to accommodate growing tourism in the early 1900s. The original Old Faithful Snow Lodge was built in 1958 and housed a dorm, restaurant, bar, and gift shop. It became winter lodging for visitors in 1971. The current snow lodge, opened in 1999, sits largely in the footprint of the original lodge.
2023 Season
Dining
Obsidian Dining Room: April 28–October 29
Geyser Grill: April 21–October 31
Western Cabin
Built in 1989 in modules of 4
2 queen beds
Private full bathroom
Modernly furnished
Frontier Cabin
Duplex cabin
1 or 2 double beds
Private bathroom with shower, toilet and sink
Additional Details
No televisions, radios, and air conditioning available in any park lodging
Internet service available in lounge for registered guests
Gift shop near Geyser Grill open April 21–October 31
Bike rental (summer season) and ski rental (winter season) available in gift shop
Accessibility
5 ADA rooms available with roll-in showers, accessible toilets and sinks, and 1 double and 1 single bed
1 ADA cabin available with accessible bathtub with handrail and shower-hose, accessible toilet and sink, 2 queen beds, and cabin entry ramp
Wheelchair-accessible shower house
Wheelchairs available for loan at the lodge for guests and at the visitor center while in the area, or for rent at the Old Faithful Medical Clinic for $15 per day with a $300 deposit
Wheelchair-accessible services in lodge building
Designated accessible parking in front
Reservations
307-344-7311
307-344-5395 for TDD (Telecommunications Device for the Deaf) service
Last updated: April 3, 2023