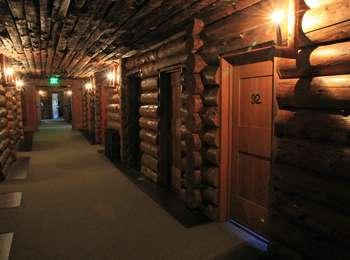 Significance:
Designed and constructed in the rustic style of architecture
Designation:
National Historic Landmark
Accessible Rooms, Bicycle - Rental, Food/Drink - Bar/Alcohol For Sale, Food/Drink - Ice Cream, Food/Drink - Restaurant/Table Service, Gifts/Souvenirs/Books, Restroom, Restroom - Family, Toilet - Flush
A national historic landmark, Old Faithful Inn is the most requested lodging facility in the park. Designed by Robert Reamer and built in 1903-1904 with local logs and stone, the inn is considered the largest log structure in the world. The towering lobby features a massive stone fireplace and a hand-crafted clock made of copper, wood and wrought iron serving as focal points. This reservable lodging facility is operated by a park partner.
2023 Season
History
After the only hotel in the Upper Geyser Basin burned down in 1894, park officials pressured the Yellowstone Park Association, which held the lease on the property, to replace it with something more substantial. In 1902, the president of the Yellowstone Park Association obtained financing from the Northern Pacific Railroad for a new hotel. The lobby, rising six stories beneath a steeply sloped roof, was flanked by a dining room and two three-story wings containing guest rooms.
The Old Faithful Inn opened in 1904, and was equipped with electric lighting, but architect Robert Reamer designed the light fixtures to look like candlesticks. Both the electricity and the radiators were fueled by a steam generator. Evening meals were accompanied by a string quartet, and dancing was customary six nights a week. The east wing was added in 1919 and the west wing was added in 1927—both under Reamer's supervision.
The Old Faithful Historic District, which includes the inn and many of the surrounding buildings, was listed on the National Register of Historic Places in 1982. Like the inn, the district is historically significant because of its rustic architecture and its role in the development of concessions, including restaurants, to accommodate growing tourism in the early 1900s. The Old Faithful Inn was designated a National Historic Landmark in 1987. A major renovation program of the Old House was launched in 2004 to meet current building codes and restore the lobby so that it more closely replicates Reamer's original design.
Design
The Old Faithful Inn, named for the geyser, exemplifies the use of rustic architecture at a large scale to complement a natural landscape. The rhyolite that formed Yellowstone's caldera during volcanic upheavals provided the stone for the building's foundation, and local lodgepole pine the logs for its walls. Skilled craftsmen embellished the windows and stairways with gnarled wood selected for its inherent beauty. As designed by architect Robert Reamer, the inn combines rugged materials and organic motifs in a way that expresses both frontier sensibilities and elegance.
Dining
Dining Room: Breakfast and lunch as first-come, first-seated; dinner reservations recommended
Lounge: Light food and beverages are available first-come, first-seated
Bear Paw Deli: First-come, first-served snacks and ice cream
Coffee Bar: Located on the second floor
Bar: Located on the second floor
Suite
2 queen beds in bedroom
Private bathroom with shower/tub combo, sink and toilet
Well-appointed sitting room with refrigerator
Junior Suite
2 queen beds
Private bathroom with shower/tub combo, sink and toilet
Sitting area
Superior Hotel Room and Premium West-Wing Hotel Room
Face the geyser basin, but views can be interrupted by tree
1 or 2 queen beds
Private bathroom with shower or shower/tub combo, sink and toilet
Premium Hotel Room, Standard Hotel Room, & Old House Standard Room with Bath
1 or 2 queen beds
Private bathroom with shower or shower/tub combo, sink, and toilet
Modern furnishings
Old House Room without Bath
1, 2, or 3 queen beds
Shared bathrooms with private showers located down the hall
Vanity sink
Additional Details
No televisions, radios, and air conditioning available in any park lodging
Gift shop and bike rental at entrance
Accessibility
8 ADA rooms available with bathroom grab bars, portable shower hose, and accessible toilet and sink
Wheelchairs available for loan at the inn for guests or for rent at the Old Faithful Medical Clinic for $15 per day with a $300 deposit
Wheelchair users may require assistance (no curb cut) to access lodge and cafeteria
Designated accessible parking in front and rear of building
Reservations
307-344-7311
307-344-5395 for TDD (Telecommunications Device for the Deaf) service
Last updated: April 3, 2023