Place
Old Faithful General Store - Lower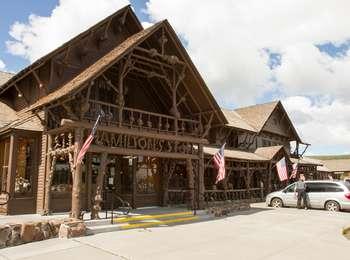 Significance:
Historic Structure
Designation:
National Register of Historic Places
Accessible Sites, Food/Drink - Ice Cream, Gifts/Souvenirs/Books, Restroom, Supplies - General, Water - Bottle-Filling Station
This was the very first store in the Old Faithful area, built in 1897. This special destination is listed on the National Register of Historic Places. Located adjacent to the Old Faithful Inn, this store's charming burlwood highlights, original marble counter and fountain stools are Yellowstone signature attractions unto themselves.
Groceries, ice cream, souvenirs, and apparel available for purchase. Water bottle filling station available, as is a sit-down restaurant with burger and sandwich options. This location is only open during the summer season.
2023 Season
Open daily, June 2–September 17
Accessibility
Wheelchair-accessible.
History
Originally the simple Klamer Store, built in 1897. The window box at the front of the store and the original roofline of the Klamer Store is to the right of the chimney.
The decorative east porch and small north porch were designed by Robert Reamer in 1903. He used gnarled wood for the posts, similar to the Old Faithful Inn. Charles Hamilton bought the store in 1915 and enlarged the building. He added a longer and equally ornate porch to the front.
The store sits "lower" on the terrain of the Upper Geyser Basin than Hamilton's second store and gas station in the area.
Last updated: April 3, 2023