Place
Ocracoke Light Station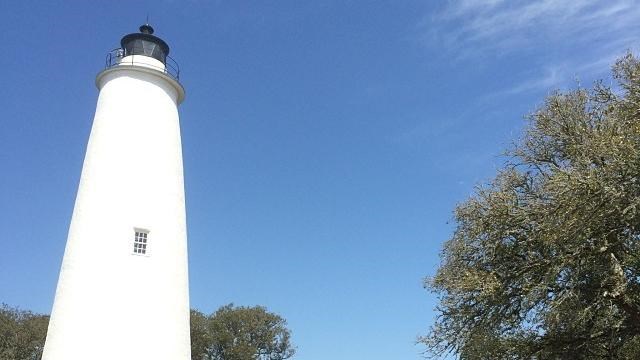 Significance:
Oldest functioning Lighthouse in NC, 2nd oldest in US
Designation:
National Register of Historic Places
Cellular Signal, Historical/Interpretive Information/Exhibits, Information, Parking - Auto, Scenic View/Photo Spot
The Ocracoke Lighthouse was built in 1823. It is the oldest working lighthouse in North Carolina, and the second oldest working lighthouse in the nation! Unique among the Outer Banks lighthouses, Ocracoke is an inlet light rather than a coastal light. Its job is to guide ships safely through Ocracoke Inlet. The lighthouse is still used and needed due to the constantly changing nature of the inlet and its shoals.

Though it is not open for climbing, the site can be visited daily. The parking lot only has four regular-sized and one accessible space, so it is recommended that this site is visited by walking from the Ocracoke Island Visitor Center.
History
Ocracoke Inlet was first placed on the map when English explorers wrecked a sailing ship there in 1585. Two centuries later, this was one of the busiest inlets on the East Coast. Ocracoke Inlet was the only reasonably navigable waterway for ships accessing inland ports such as Elizabeth City, New Bern, and Edenton. Ocracoke Village, then known as Pilot Town, developed as a result of the inlet's use. Pilots, hired to steer ships safely through the shifting channels to mainland ports, settled the village in the 1730s.

The US Lighthouse Service recognized that a lighthouse was needed to assist mariners through Ocracoke Inlet. In 1798, a wooden, pyramid-shaped tower on nearby on Shell Castle Island began helping mariners navigate the inlet. Unfortunately, the lighthouse was obsolete in less than 20 years due to the migration of the main channel. By 1818, the channel had shifted nearly a mile away! That same year, both the lighthouse and keeper's house were destroyed by lightning.

A need for a navigation beacon still existed, so the Ocracoke Lighthouse was built in 1822 and first lit in 1823. A fourth-order Fresnel lens was installed in 1854, replacing the old reflector system. Its hand-cut prisms and magnifying glass greatly intensified the light.
Today
Fully automated, the lighthouse no longer needs a resident lightkeeper to tend to its daily needs. The US Coast Guard now oversees the operation of the light, while the National Park Service preserves the lighthouse.
Fresnel Lens
Mariners have depended on lights for navigation for over 2,000 years. As maritime travel and commerce increased, so did the quantity and quality of navigational lights. Brick and metal lighthouses replaced wooden platforms. Brighter burning oil lamps took the place of simple wood or coal fires. Parabolic or spherical reflectors were added to concentrate the lights and increase visibility. In 1822, one of the greatest improvements in lighthouse technology came when Augustin Jean Fresnel, a French physicist, introduced a new lens design.

Fresnel's lens resembles a giant beehive with a system of multi-faceted glass prisms mounted in a brass framework. The prisms refract (bend) light and magnify it, thereby taking rays of light that would normally scatter in all directions and focusing them into a single beam. Because of this design, a Fresnel lens is much more efficient than traditional light sources. Tests show that an open flame loses nearly 97% of its light. A light with a reflector placed behind it loses 60-80% of its light. With a Fresnel lens, only a maximum of 20% of its light is lost! Before this, the brightest lighthouse beams could reach 8 to 12 miles away. The light from a Fresnel lens could shine all the way to the horizon, which is more than 20 miles away!

Prior to the Fresnel lens, most lighthouses had only solid, steady lights. This made it difficult to distinguish one light from another, often causing confusion and dangerous conditions for passing ships. But the Fresnel lens could produce an almost unlimited combination of patterns, depending on the number of installed flash panels and the speed that the lens revolved.
Dimensions
- Height: 75 feet
- Diameter at base: 25 feet
- Diameter at top: 12 feet
- Wall thickness at base: 5 feet
- Wall thickness at top: 2 feet

An octagonal lantern crowns the tower and houses the light beacon.
Oil/Generator House
The small block building formerly provided storage for lamp fuel. Whale oil, porpoise oil, and mineral oil (kerosene) have all served as fuel for the light. Today the light is electric, and this building now houses an auxiliary generator.
Last updated: March 1, 2021