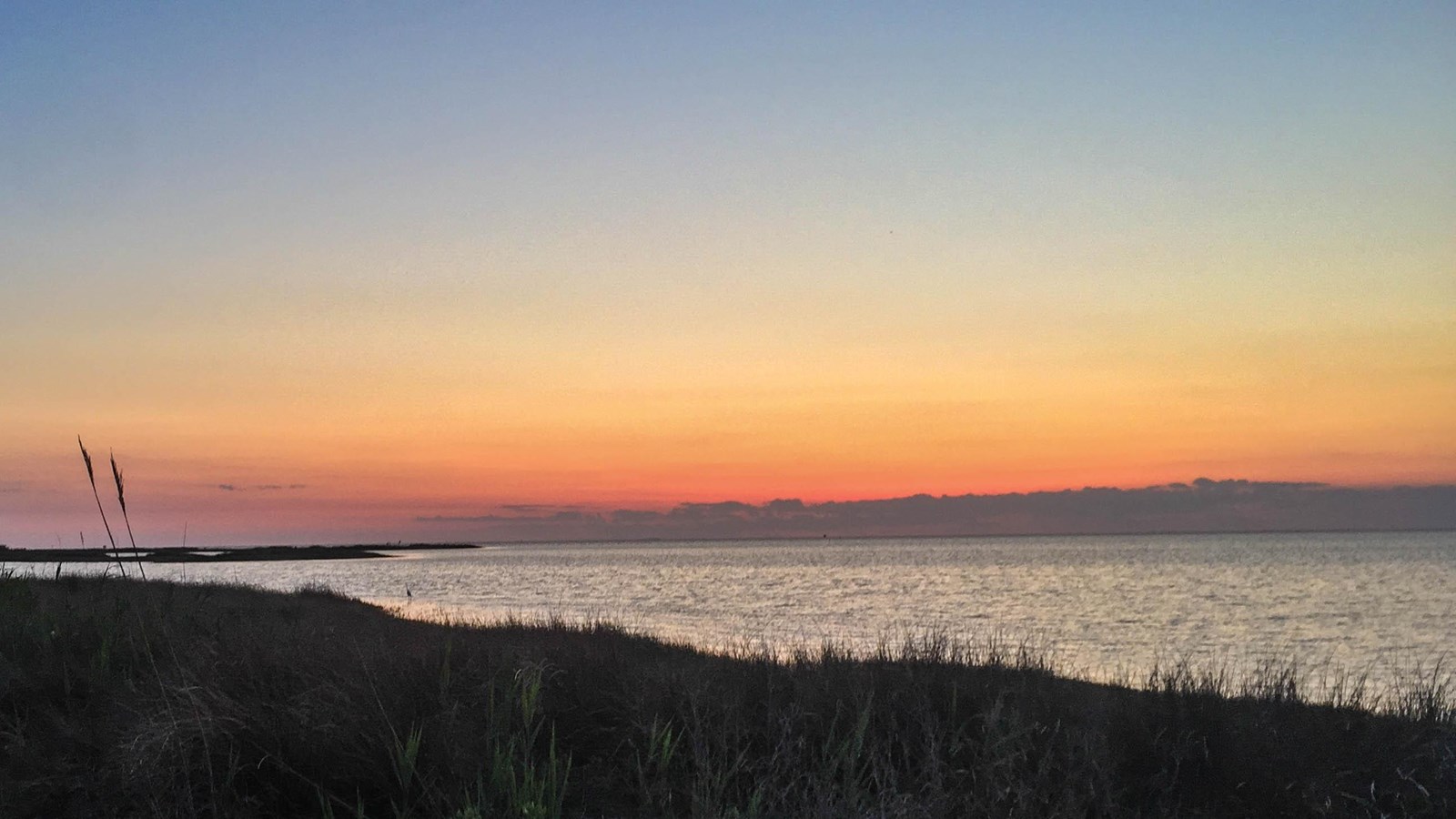 Significance:
Lifeguarded Beach
Beach/Water Access, Bicycle - Rack, Historical/Interpretive Information/Exhibits, Parking - Auto, Parking - Boat Trailer, Parking - Bus/RV, Restroom - Accessible, Showers, Water - Bottle-Filling Station, Wheelchair Accessible
The beaches of Ocracoke are a wonderful place to experience the Atlantic Ocean, where the waters are warmer than the northern beaches of Cape Hatteras National Seashore due to the influence of the nearby Gulf Stream. With showers, changing rooms, restrooms, and lifeguards on duty during the summer months, this is the perfect place to enjoy the beach while on Ocracoke Island.
Playing with Energy
Cape Hatteras is known for its waves. Whether you are a surfer, body-boarder, or just like to play in the sea, waves are part of your experience.

Offshore winds pushing open ocean water create the wave energy you see near the shoreline. As the seafloor slopes up to the beach, that under-water energy compresses, water is pushed up, the energy is released, and a wave is born. If the wave gets too tall and steep, it will topple onto itself.

You can get a sense of the seafloor below the water's surface by watching how the waves topple. Slow rolling breakers signal a shallow slope, while plunging tall breakers are evidence of a steep drop-off just beyond the beach.

Waves follow patterns and rhythms. Several smaller waves are followed by larger waves; which is called a wave set. Take a moment before you go in the water to watch the breakers, see the patterns, and get a sense for the energy you will be part of in each and every wave.

- The crest is the highest point of the wave, while the trough is the wave's lowest point. Wave height is the vertical distance between the crest and trough. Wave length is the overall horizontal length between two consecutive crests or troughs.
Know Before You Go
The seashore is an enjoyable place for swimming, but rough surf and rip currents can turn a fun visit into a frightening one. Tides, waves, and winds constantly barrage these barrier islands. Even at the shore's edge, crashing waves can pick you up and throw you to the sandy bottom causing injuries.
Last updated: February 5, 2021