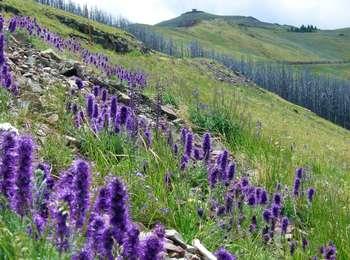 Historical/Interpretive Information/Exhibits
Mount Washburn is one of the most popular day hiking destinations in Yellowstone. Its peak elevation is 10,219 feet (3,115 m) and panoramic views for about 20 to 50 miles (32 to 80 km). At the top, check out interpretive exhibits inside the base of a fire lookout and enjoy the view.
Hike to the top via two trails that ascend Mount Washburn on a wide path with spectacular views. The trails start at the Dunraven Pass Trailhead and at the Chittenden Road parking area. Bicycles may use the trail from the Chittenden Road parking area.
During July, wildflowers carpet the slopes. Visitors often see bighorn sheep near the trail.
Fire Lookout
Mount Washburn is one of three fire lookout stations in Yellowstone. It is continuously staffed from mid-June until the fire season ends. Fire lookouts are staffed by firefighters trained to detect and locate fires, monitor fire activity, and report significant changes. They spend the summer living alone, watching for signs of fire.
Forming a Mountain
This peak can be seen from many locations in the park. It is a remnant of an extinct volcano from the Absaroka Volcanics of about 50 million years ago. The volcano was literally cut in half by a volcanic eruption 631,000 years ago. Only the northern part of the original volcano is still visible.
Bighorn Sheep
Bighorn sheep are often seen along the slopes of Mount Washburn near Dunraven Pass.
All bighorn sheep have horns. The rings on horns can be used to determine age, though it is easier to count the rings on a ram.
Ram skulls have two layers of bone above the brain that work as a shock absorber. This is an adaptation for the collision of head-on fighting that is used to establish dominance between rams of equal horn size, especially during mating.
Animals are Dangerous
Do not approach or feed any animal.
Bison and elk have injured people.
Stay 100 yards (91 m) from bears and wolves.
Stay 25 yards (23 m) from all other animals.
You are responsible for your safety.
Think Safety, Act Safely. Yellowstone is a Dangerous Place.
Accessibility
Use caution in the large pullouts; assistance may be required.
Last updated: November 7, 2021