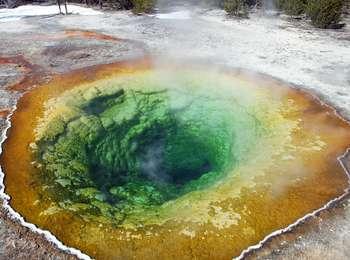 Historical/Interpretive Information/Exhibits
Morning Glory Pool was a favorite destination for early visitors. It was named in the 1880s for its remarkable likeness to its namesake flower.
This blue pool soon became victim to vandalism. Over the years people have thrown in thousands of pounds of coins, trash, rocks, and logs into the pool. Much of this debris became embedded in the sides and vent of the spring, which reduced the water circulation and thus the water temperature. Vandalism has decreased, but remains a problem.
Natural changes may be cooling the water, too. Cooler temperatures allow orange- and yellow-colored bacteria to thrive. Please report vandalism to a ranger.
Morning Glory Pool has an average temperate of 159.3°F (70.7°C), an average pH of 7.6, and an average conductivity of 2098 uS/cm.
Hot Springs
Hot springs are the most common hydrothermal features in Yellowstone. Their plumbing has no constrictions.
Superheated water cools as it reaches the surface, sinks, and is replaced by hotter water from below.
This circulation prevents water from reaching the temperature needed to set off an eruption.
Color & Heat Lovers
Hydrothermal features are also habitats in which microscopic organisms survive and thrive. They are called thermophiles: "thermo" for heat and "phile" for lover.
Although they are too small to be seen with the naked eye, trillions are grouped together and appear as masses of color. They are nourished by energy and chemical building blocks.
Colorless and yellow thermophiles grow in the hottest water.
Orange, brown, and green thermophiles grow in cooler waters.
Imagine living in near-boiling temperatures, in hydrothermal features with the alkalinity of baking soda, or in water so acidic that it can burn holes in clothing. Microorganisms in Yellowstone need these extremes to survive.
Upper Geyser Basin
The majority of world's active geysers are in the Upper Geyser Basin, including Old Faithful. Only four other places in the world have large concentrations of hydrothermal features: Russia (Kamchatka), Chile, New Zealand, and Iceland.
The heat for the hydrothermal features comes from Yellowstone's volcano. Molten rock or magma may be as close as 3-8 miles (5-13 km) underground. Rain and snow supply water that seeps down several thousand feet (more than a kilometer) below the surface where it is heated.
Underground cracks form a natural plumbing system. Hot water rises through the plumbing to produce hot springs and geysers.
Use Caution in Hydrothermal Areas
Stay on boardwalks and designated trails.
Hydrothermal water can severely burn you.
Never run, push, or shove.
Supervise children at all times.
Do not scratch hydrothermal mats.
You are responsible for your safety.
Think safety, act safely. Yellowstone is a dangerous place.
Last updated: March 24, 2022