Place
Mori Point Trailhead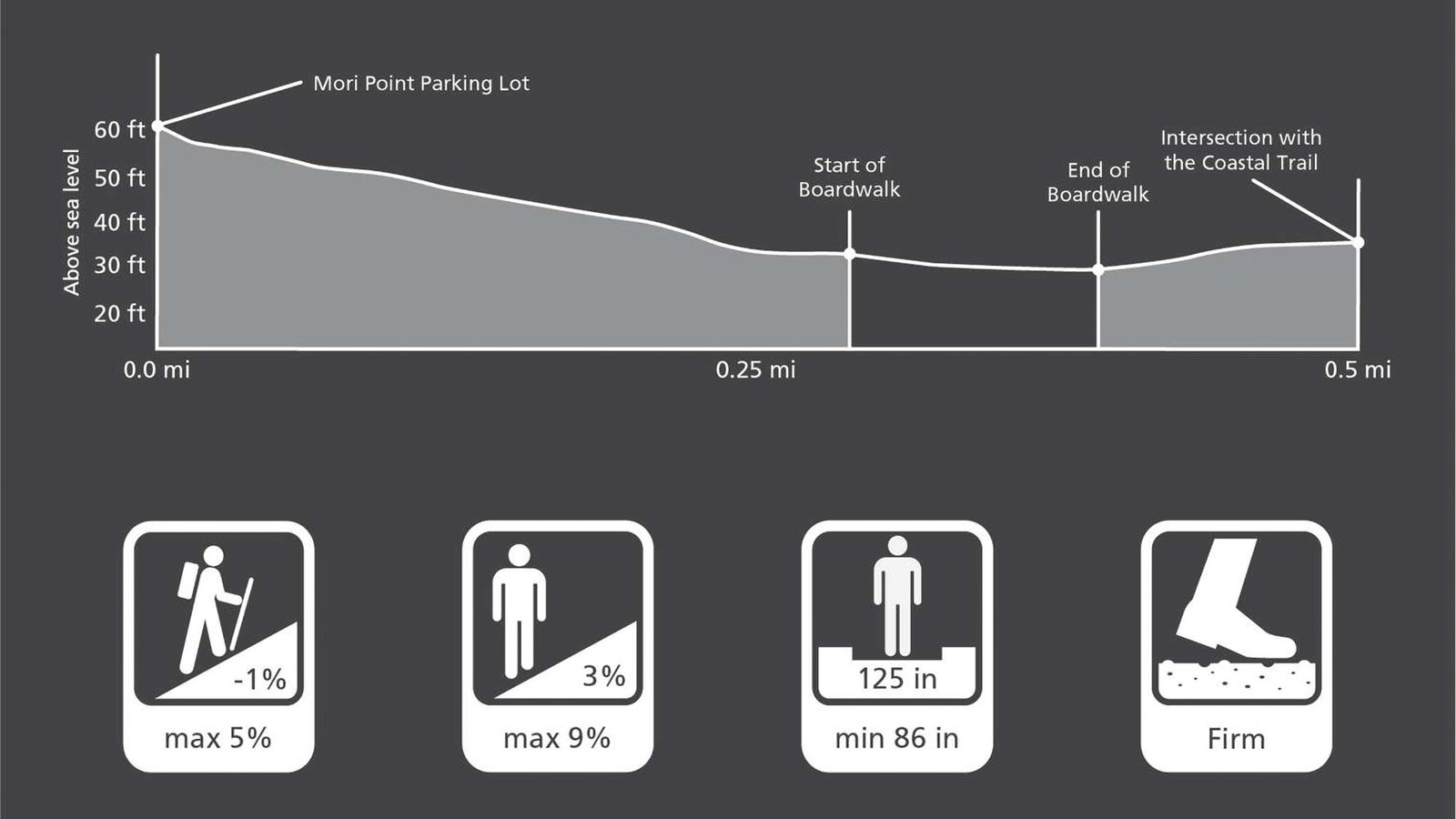 Mori Point offers several trails, including the Pollywog and Lishumsha Trails and the accessible Old Mori Trail, a 2.5 mile round-trip walk to an ocean overlook known for whale watching and spring wildflowers.

Old Mori Trail Overview
Distance: 1.0 mi (1.6 km)
Elevation Gain: 30 ft
Time: 1 hour
Trailhead: Mori Point
Slope: Avg -1% Max 5%
Side Slope: Avg 3% Max 9%
Width: Avg 125" Min 86"
Trail Surface: Firm

Safety
- Stay on the established trail. Keep an eye out for poison oak.
- Observe warning signs and railings-these exist for your safety. Cliffs along the bluffs can be unstable and hazardous.
- Dress in layers and be prepared for varying weather conditions. Sunny days along the coast can turn windy, foggy, and cold very fast.

Parking
There is trailhead parking at Mori Point including two ADA accessible spots. Parking is limited. If you park in the nearby streets, please observe parking regulations.

Bathrooms
An accessible restroom can be found at the Mori Point parking area.

Dog and Trail Etiquette
Leashed dogs are permitted on the Old Mori Point Trail. Please remain on the established trail. Off-trail travel harms plants and causes erosion. Keep your food within arm's reach at all times and do not feed the wildlife. Carry out all trash and food waste (fruit peels, shells, etc.).
History of Mori Point
Mori Point has been utilized by humans for a long time, beginning with the Ohlone who inhabited the area just south of Mori for thousands of years. In the 1700s, the Spanish mined nearby limestone to whitewash San Francisco's Presidio buildings. In the early 19th century Mori Point was part of the sprawling Rancho San Pedro, where both Spanish and Mexican interests used the land for cattle grazing, woodcutting and farming. When control of the region passed on to the US, the land grant was extended, and ranching activities increased.

In 1888, Stefano Mori purchased 19 acres of farmland here. He and his family raised livestock and horses, and grew Brussels sprouts, cabbage and artichokes. The Mori family built a house on the northwestern corner of the point, with a kitchen to feed ranch hands, and rooms to house them. Years later, this building became Mori's Point Inn.
From Development to Restoration
For years, the landscape around Mori Point was marred by the limestone quarry operations, and later, off-road vehicle use. In the 1980s, developers proposed constructing a hotel and conference center, homes and a horse show arena on Mori Point. Thanks to the combined efforts of land agencies and community members, this development deal never went through.

In 2000, with the help of the Pacifica Land Trust, the Coastal Conservancy and the community, Mori Point was purchased by the Trust for Public Land and later added to the Golden Gate National Parks. Restoration efforts have helped the area recover from invasive species introduced over centuries of human interference, and spurred the return of both native animals and plants.
Last updated: November 7, 2021