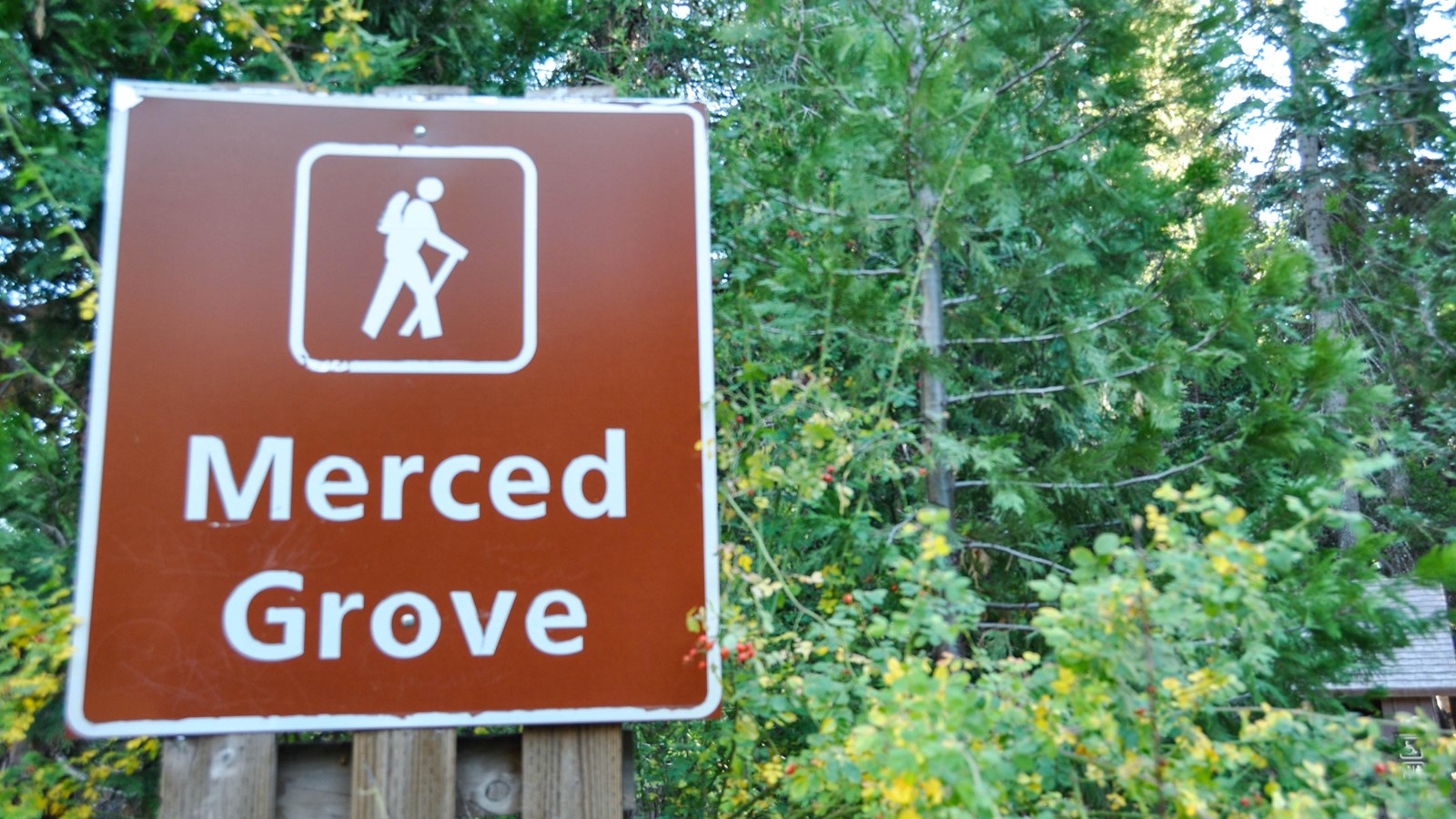 Recycling, Restroom, Scenic View/Photo Spot, Trailhead, Trash/Litter Receptacles
The Merced Grove will close on July 10, 2023 and will remain closed for 2-3 months. This closure is needed to safely remove hazardous fuels surrounding the giant sequoias. High severity fires fueled by hazardous fuels have killed nearly 20% of all giant sequoias in the past three years in the southern part of the range. This is the first step towards implementing an interagency prescribed fire that will provide protection of the giant sequoias from high severity fire and promote sequoia seedling germination. This project is part of a larger project to remove hazardous fuels from around giant sequoias and communities.
Visit Yosemite's quietest stand of giant sequoias at the Merced Grove.
The Merced Grove is home to approximately 20 mature giant sequoias, accessible only on foot. This trail follows an old road that curves down into the Merced Grove, the smallest and most secluded of Yosemite's three sequoia groves. The trail drops down 1.5 miles, making this a moderate hike on the uphill portion. An old ranger patrol cabin, the former summer retreat of park superintendents, is part of the grove's history. Look for dogwoods blooming here in the spring.
Hours
Year-round
In the winter, The trail leading into Merced Grove is open to hikers, snowshoers, and skiers.
Winter in Merced Grove
Ski or snowshoe touring in Yosemite can be a magnificent experience! The Merced Grove has a trail rating of 'Most Difficult.' The first half mile is level and easy, providing a good warm-up for the steep 1 mile (1.6 km) descent into the grove. This trail requires heavy snowfall from a cold, lower-elevation storm to be skiable. Trails are not groomed in the Crane Flat area. Icy or
crusty conditions, or deep snow can make trails much more difficult.
3 miles (4.8 km) round trip;
520-foot (158 m) elevation gain on return.
1-3 hours.
Getting Here
Located 3.5 miles north of Crane Flat and 4.5 miles south of Big Oak Flat Entrance, along the Big Oak Flat Road (Highway 120 from the west). The trail is marked by a sign and a post labeled B-10.
Rules & Regulations
Pets or bicycles are not allowed on this trail.
Hazards & Warnings
There is no drinking water at the parking area or down in the grove. Be sure to bring drinking water with you.
Accessibility
This trail is not accessible.
Last updated: June 29, 2023