Place
Marble Falls Trailhead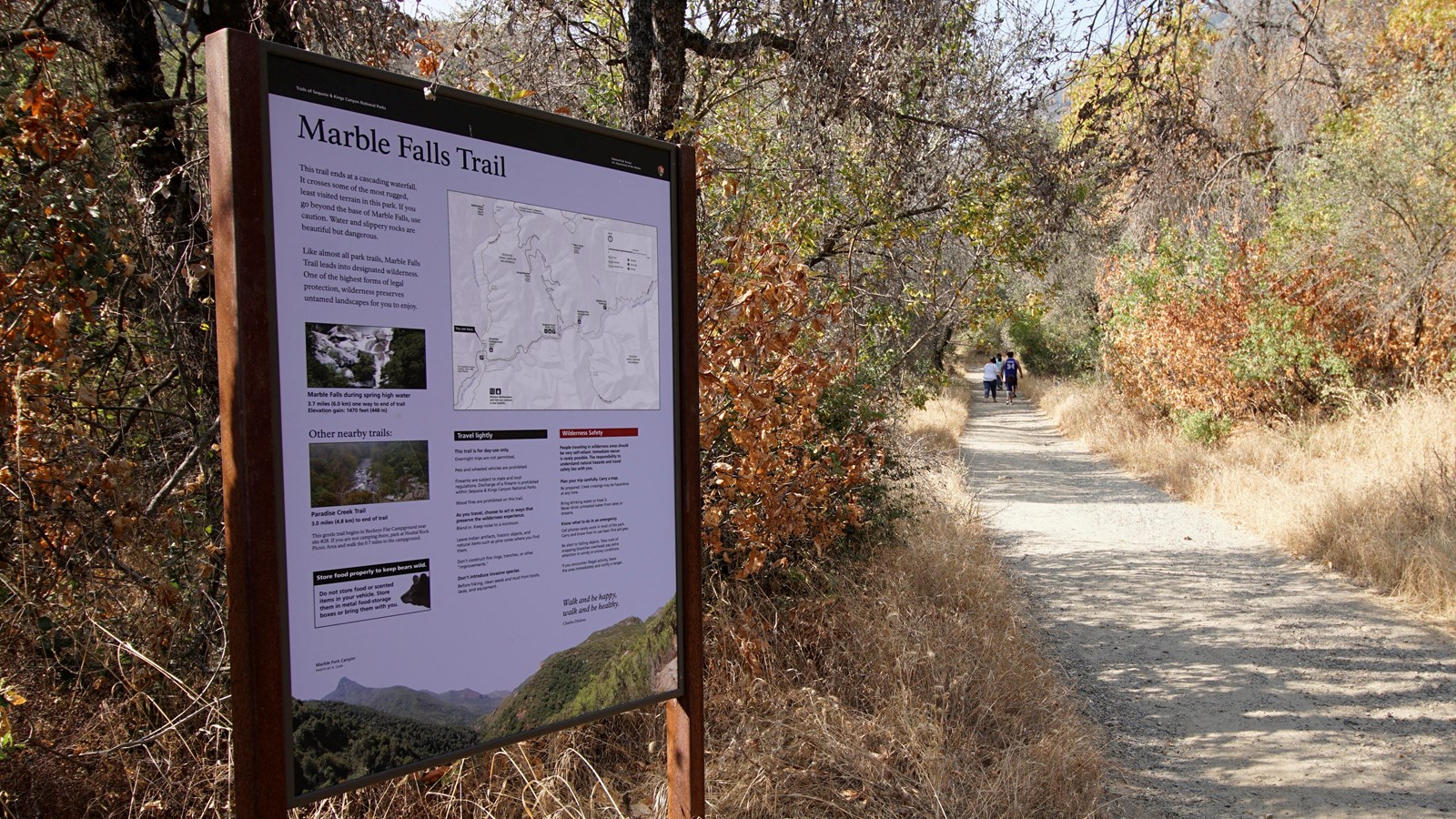 Location:
Potwisha Campground, Sequoia National Park
Audio Description, Trailhead
This trailhead orientation panel shows a map and images of the Marble Falls Trail area.

This trail climbs 3.1 miles one-way at a moderate incline through the chaparral scrubland, ending at a waterfall cascade.

Park near site #14 at Potwisha Campground and follow the dirt road across the concrete ditch. The trail starts along the steep bank to the right. Additional parking available across the Generals Highway in the Potwisha Overflow Parking Lot.
Community Science
Water is essential for life to thrive in the hot, dry foothills, but can sometimes be challenging to find. In the springtime, streams and creeks swell to high levels as snowmelt makes its way down towards the Central Valley. Once the snow has melted, however, water levels drop significantly. By late summer, many water sources dry up completely. Inconsistent snowpack from year to year makes it difficult to predict what resources will be available for the parks' flora and fauna. By tracking water levels over time, park scientists can better understand this unique landscape.

Are you interested in exploring watersheds in the Foothills? Join a park ranger at any point in the year to collect data as a community scientist. In order to be sensitive to the plants and animals that call these streams home, group sizes are limited to a maximum of 6 participants. Individuals with an interest in a longer-term volunteer commitment are encouraged to reach out.

Call Sequoia and Kings Canyon National Parks' Education Office at 559-565-4211 or email seki_ritc@nps.gov for more information.
Last updated: May 23, 2022