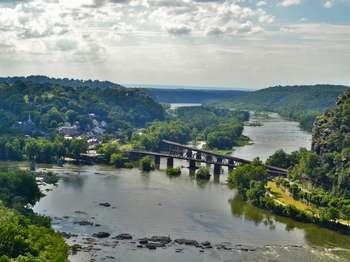 Historical/Interpretive Information/Exhibits, Scenic View/Photo Spot
Almost equal to Maryland Heights in elevation and always less crowded, Loudoun Heights offers a bit more solitude and an overlook that is as good as or better than its northern cousin. Loudoun Heights also rewards its visitors with glimpses of the remnants of Civil War campsites and fortifications. The Appalachian Trail south is the only way to the top of the ridge. Then the park's blue-blazed trail leads to the Split Rock overlook and an awesome payoff for all of your effort. 

Loudoun Heights is the second highest mountain overlooking Harpers Ferry, hugging the Shenandoah River along its base. The mountain's northern face has a 900-foot vertical drop, which is the steepest bluff surrounding Harpers Ferry. The name Loudoun Heights comes from Loudoun County, Virginia, which is situated near Harpers Ferry.

Confederate forces, under Col. Thomas Jonathan Jackson, were the first to occupy Loudoun Heights. In the spring of 1861, Jackson ordered the construction of three infantry blockhouses on the mountain summit. The stone foundation remains of the blockhouses still remain today and are hidden in wilderness, which has helped preserve them.

During the Battle of Harpers Ferry, September 12-15, 1862, Maj. Gen. John G. Walker's Confederate division seized Loudoun Heights in accordance with General Lee's Special Orders 191. Walker's division of 4,000 men encountered no resistance by the Union troops in the area because they thought that Loudoun Heights would not affect them but their assumption was false. Confederate General Jackson ordered cannon to be placed on the mountain, which seemed impossible to do, along with four guns on the mountain's crest. When bombardment commenced on September 13, the Loudoun Heights cannon caused more damage and harm to the Union forces holding Bolivar Heights and Camp Hill than any other Confederate position, due to the elevation and near proximity of Loudoun Heights.

Following the Battle of Antietam, the Union reoccupied Harpers Ferry in late September 1862. Loudoun Heights became an extensive temporary campground for a portion of the Army of the Potomac. The grounds of Loudoun Heights were miserable for camping, with limited water, steep slopes, boulder-strewn crests, and primitive roads. Remnants of these campgrounds still exist, but are inaccessible due to the rugged terrain. By early November, the Union troops had abandoned the mountain, and did not again play a significant role, as it fell under the big Union guns on Maryland Heights.
Last updated: December 1, 2022