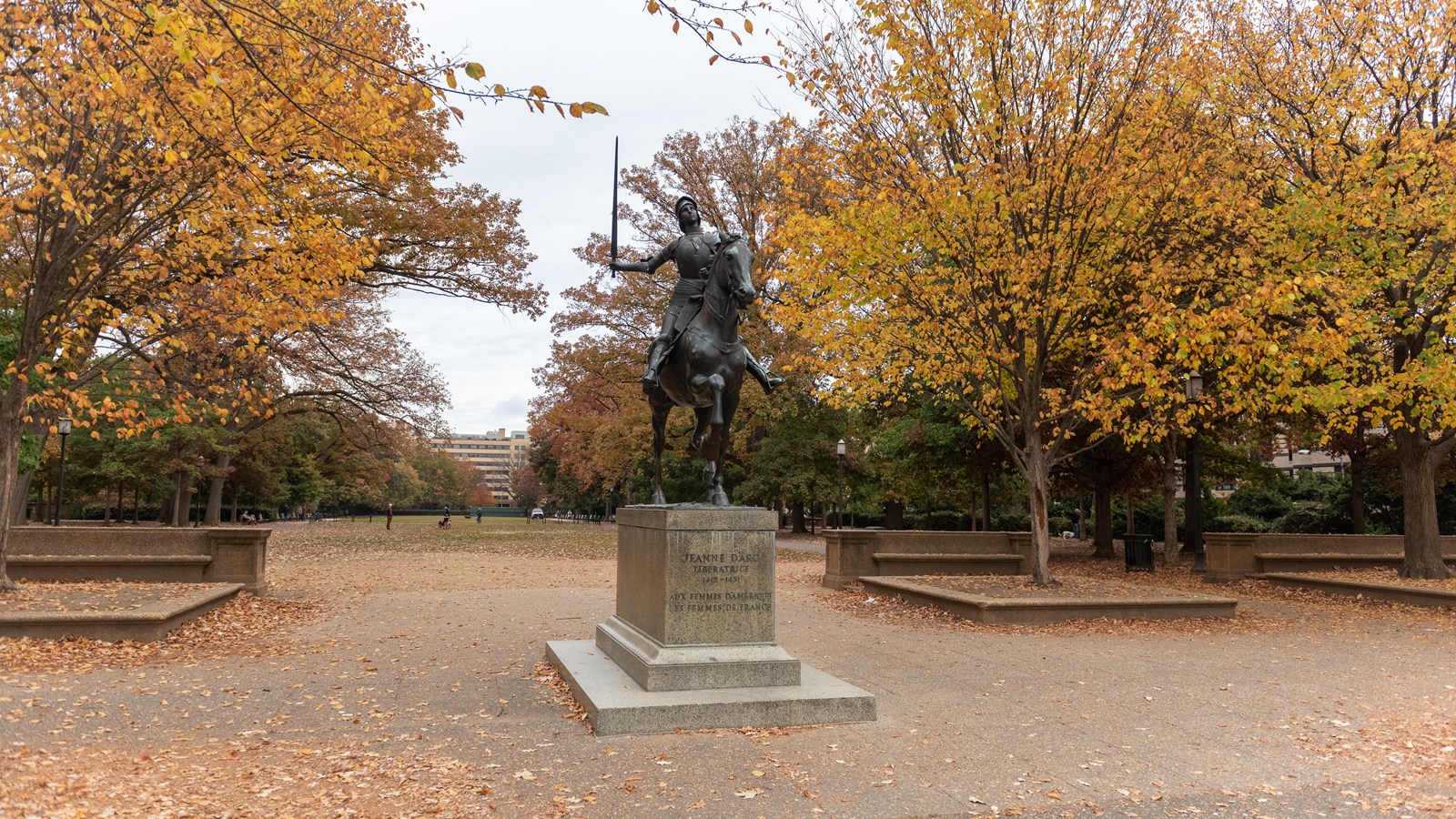 Location:
Meridian Hill Park
Historical/Interpretive Information/Exhibits, Public Transit, Wheelchair Accessible
The Joan of Arc Statue is the only equestrian statue of a woman in Washington, DC. Joan of Arc was a heroic French figure who claimed to receive religious visions telling her to fight for France and overthrow the English during the Hundred Years' War. Upon her capture and trial at the hands of the English, she was burned at the stake, leading the Catholic church to recognize her as a martyr in 1456. She was beatified in 1909 and canonized in 1920. This statue, a copy of the original at the Rheims Cathedral, was erected in 1922. The statue was a gift from the Society of French Women in Exile in New York. Approval for the statue occurred under an act of Congress on March 20, 1922 (42 Stat. 468) and the casting of the monument was supervised by the Ministre des Beaux Arts in Paris.

Cost: Unknown. Statue was erected at no cost to the United States.

Dedicated: January 6, 1922

Sculptor: Paul Dubois
Memorial Description
The statue is made of bronze which has aged to have a green tinge to it. Joan's horse has the front left and right rear foot in the air, indicating motion. The horse's mane also indicates motion. Joan holds the reins of her horse in her right hand. She is wearing armor with the visor of her helmet up. Her left arm is slightly raised and in her fist she holds a sword. The bronze statue sits on a granite plinth.
Inscriptions
Jeanne D'Arc / Liberatrice / 1412-1431 / Aux Femmes D'Amérique / Les Femmes De France / 

An inscription on the back of the pedestal reads:
Offert Par / "Le Lyceum" / Société Des Femmes De France / À New York / Le 6 Janvier 1922
Last updated: June 8, 2023