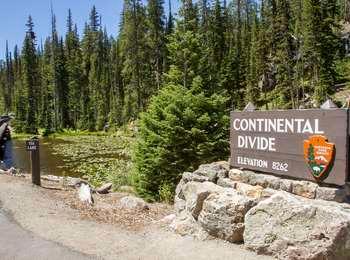 Location:
Old Faithful Area
Historical/Interpretive Information/Exhibits
The Continental Divide is like the crest of the continent. Theoretically, when precipitation falls on the west side of the Divide, it eventually reaches the Pacific Ocean. When it falls on the east side of the Divide, it eventually reaches the Atlantic Ocean. In Yellowstone (as elsewhere), this ridgeline is not straight.
You cross the Continental Divide three times between the South Entrance and the Old Faithful area. Craig Pass is the highest crossing, at 8,262 feet.
Isa Lake at Craig Pass was, at one time, probably the only lake on Earth that drained naturally backwards to two oceans, the east side draining to the Pacific and the west side to the Atlantic. If this still occurs, it is only at the peak of snow melt after winters with deep snowfall.
Shoshone Lake
Shoshone Lake is the park's second largest lake, and is thought to be the largest lake in the lower 48 states that cannot be reached by road. Its maximum depth is 205 feet and it has an area of 8,050 acres. The Shoshone Geyser Basin contains one of the highest concentrations of geysers in the world--more than 80 in an area 1,600 x 800 feet.
Expect Travel Hazards and Delays
Drive cautiously and defensively.
Allow time for road congestion.
Do not stop on or block a road.
Use pullouts; stay in your car to watch animals.
You are responsible for your safety.
Think Safety, Act Safely. Yellowstone is a Dangerous Place.
Last updated: November 13, 2023