Place
Hatteras Island Visitor Center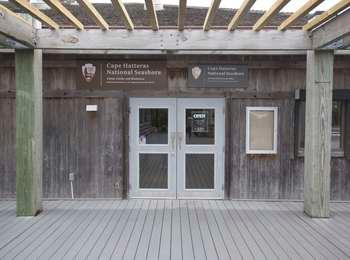 Significance:
Visitor Center
Cellular Signal, Gifts/Souvenirs/Books, Information, Parking - Auto, Parking - Boat Trailer, Parking - Bus/RV, Recycling, Restroom - Accessible, Water - Bottle-Filling Station, Wheelchair Accessible
The Hatteras Island Visitor Center is where you can replenish your water bottles, purchase or pick-up off-road vehicle permits, use the restroom facilities, or browse the items for sale in the gift shop.
Off-road Vehicle Permits
Accessing all ocean and sound beaches with a vehicle requires an off-road vehicle permit. Two types of off-road vehicle permits are available for purchase. They are

- a 7-day permit ($50, valid for 7 consecutive days) or
- an annual permit ($120, valid for the calendar year).

Remember to keep the permit in the glove box of your permitted vehicle and the proof-of-permit sticker (or print-at-home proof) clearly visible on the driver side of the windshield.

Permits can only be purchased on the Cape Hatteras Off-road Vehicle Permit page at Recreation.gov . With the online process, you can print a 30-day temporary permit at home until the permanent proof-of-permit sticker is received via US mail.
Last updated: March 1, 2021