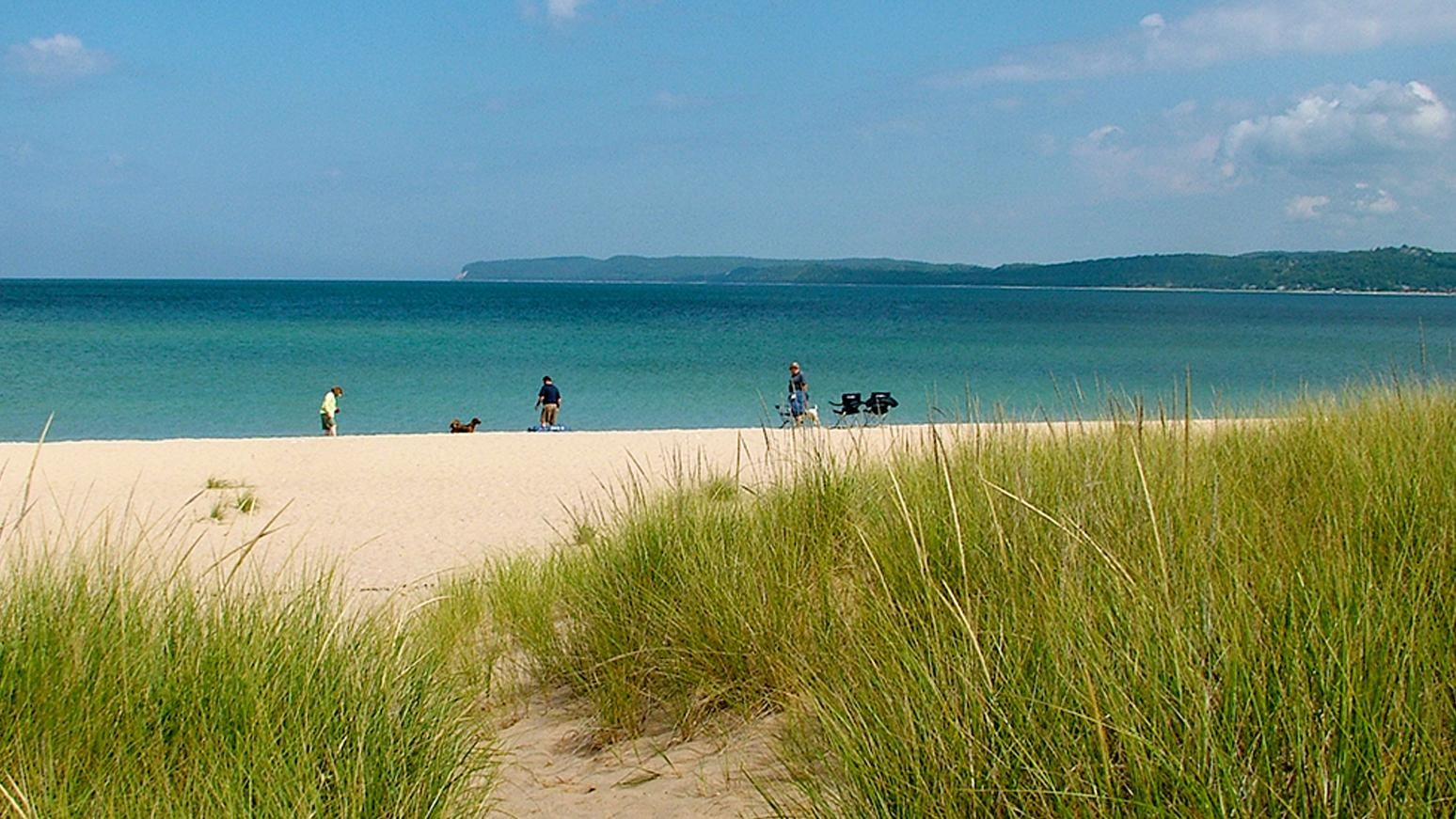 Beach/Water Access, Parking - Auto, Parking - Bus/RV, Picnic Table, Toilet - Vault/Composting, Water - Bottle-Filling Station, Water - Drinking/Potable, Wheelchair Accessible
Glen Haven Beach is a pebbly beach on the edge of Sleeping Bear Bay. This popular beach offers a little bit of everything. Not only the perfect destination for a family getaway, some fun in the sun with friends, or a day to yourself, it is also a fantastic spot to take a break-from biking along the Sleeping Bear Heritage Trail, touring the historic Glen Haven village, or hiking through the low-lying dunes along the shore. The beach is a good site for walking, wading, or swimming.
Keep your head down while wading in the cool, clear water and you may spy basalts, granites, cherts, limestones, and fossilized corals-some of the many different types of rocks and stones in the Great Lakes.
Glen Haven beach is a great place to launch your kayaks or canoe. But remember, Lake Michigan's history is filled with many major shipwrecks over the decades. Look out for high waves and icy waters and storms that can arise quickly on the Great Lakes.
Leashed pets are welcome to the right of the Maritime Museum, when facing the water, to all the way past the Cannery and D. H. Day Campground. No pets are allowed on the Maritime Museum grounds.
What are those posts sticking out of the water?
Do you see any pilings? If the water level is low, you may see peeking out of the water remnants of a large dock that was here when Glen Haven was bustling.
In 1865, eight years after he founded the port settlement of Sleeping Bearville (which he soon renamed Glen Haven) CC McCarty built a dock about 150 feet into Lake Michigan. Around the turn of the 20th century, you would have seen up to 70 vessels anchored in Sleeping Bear Bay off or at the docks during the shipping season.
Look out for a dunesmobile!!?
For over 40 years the Dunesmobiles rode over the breathtaking landscape, including this beach. One minute a beachgoer might be lazing in the sun, wading in the water, building a sandcastle, or sifting through beach stones, but the next they are jumping out of the way of a convertible zigzagging along the shoreline, splashing in the shallows, filled with screaming passengers. The speeding convertibles were out; beach time was over.
Look! A Petoskey stone!
Watchful beachcombers can find a rainbow of pebbles dotting the shore, but uncovering a Petoskey stone is finding beach treasure. Petoskeys have an interesting shape and the intricate hexagonal patterns of the fossil colonial coral. Tossed by the waves, a Petoskey is rounded and smooth. Their attractive gray to brown color make Petoskeys stand apart from all other local rocks, and they are a favorite of rock hounds. Admire these natural beauties all you like, but please don't take them from the beach: it is illegal under federal law to remove stones from the National Lakeshore. Leave what you see for others to discover!
Enjoy the beach safely
Poison Ivy: leaves of three, leave it be!
Poison ivy grows plentifully in many areas of the Lakeshore as a vine or low shrub. The leaves are red in early spring, shiny green in summer, and an attractive red or orange in the fall. Each leaf consists of three leaflets. Most people are sensitive in varying degrees to the sap of this plant, which makes the skin itch, blister, and swell.

Avoid contact with all parts of the plant. Avoid plants with three leaflets.

If exposed, wash the affected skin with soap and water as soon as possible.


Beach fires
Roasting hot dogs and marshmallows over glowing coals while watching the sun go down over the lake is a perfect ending to a fun day at the beach. Beach fire are allowed on our mainland Lake Michigan beaches between the water's edge and where the dunes begin, and away from any vegetation. Make sure you use firewood from park approved vendors to help us protect our forests from pest and disease. And be sure to extinguish all beach fires with water. DO NOT bury fires-hidden embers could burn unsuspecting bare feet!

Take care around plover nesting area
Keep a watchful eye out for a tiny animal friend, the piping plover, a threatened species that breeds here in the spring. Piping plovers find the cobbled beaches of Sleeping Bear Dunes an ideal place to find mates, nest, and raise their young. To protect the plovers and their nests, some parts of the beach may be temporarily closed to visitors and pets. Please help us protect these special birds by keeping dogs on a leash and obeying all beach closure signs.

Step around the Pitcher's thistle
Pitcher's thistle (Cirsium pitcher) blooms only once when the plant is seven years old. This native thistle grows only on the shorelines or sand dunes of the Great Lakes and is common in the Lakeshore. It is a threatened species: it is likely to become endangered in the foreseeable future.

Walking through foredunes on your way to the beach may trample and kill these plants before they can reproduce. So please watch out for the Pitcher's thistle: stay on the wooden walkways and established trails.

Swim safe
The Lakeshore's pristine beaches are ideal for swimming, but forceful waves and rip currents can turn a fun visit into a frightening one. Use caution when swimming alone and take special precautions with children: keep a close watch on all children, stay within arm's reach, and be sure they are wearing a life jacket.

Be alert for rip currents
Although they are not common in the Lakeshore, rip currents are dangerous and can occur at any beach with breaking waves.
Lake Michigan conditions can change quickly. Know what to expect before you go in the water. Monitor the weather and check out the swim risk level for the beach you plan to visit. Read more in Safety.

Paddle safe
Before going out for a paddle, check the weather. Have a boating plan and make sure others know it. Always wear safety gear, including personal flotation devices. Buddy up, don't go out alone. Check your boat and make sure it is safe for conditions. And always keep the shoreline in sight.
Last updated: November 7, 2021