Place
Glacier Point Ski Hut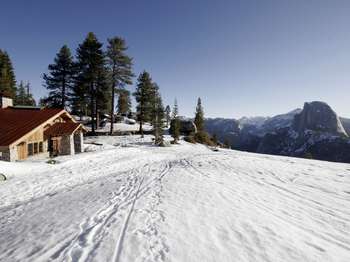 Recycling, Trash/Litter Receptacles
View Yosemite Valley, Half Dome, and the Yosemite High Country from one of the most breathtaking sites in the Sierra Nevada region, from the Glacier Point Ski Hut.

A 10.5-mile cross-country ski trip from Badger Pass Ski Area, on groomed terrain, will bring you to this rustic accommodation. Experienced cross-country skiers can do the entire round-trip in 4 to 5 hours, however, many guests like to explore Glacier Point longer and stay at Glacier Point Ski Hut overnight. Children must be at least 14 years old and accompanied by an adult to stay at Glacier Point Ski Hut. Reservations are required, and the Hut is only open in the winter.

Inside the Glacier Point Ski Hut, you'll find a charming dining room and rustic accommodations that include:

Comfortable Sofas
Woodstove
Restrooms
Large bunk bed area that sleeps up to 20 people in a single room.

Equipment rentals are available. See website for more information.


Hours:
Closed until further notice.

Getting Here:
Begin at Badger Pass, located along the Glacier Point Road, about 8 miles east of the Chinquapin intersection and the Wawona Road (Highway 41).

Rules & Regulations:
To dispose of human waste, dig through snow and six inches into soil.
Pack out all garbage, including toilet paper.
Skiers and snowshoers should make and maintain separate tracks.

Hazards & Warnings:
Short days mean that you might not be able to travel as far as expected.
Let someone know where you are going.
Keep track of all members of your party.
Watch for hypothermia - slow movements, peculiar behavior, unintelligible speech.
Stay on trails.
Get weather forecast and be prepared for the unexpected.
Carry proper food and gear for unexpected bivouac.
Carry and drink plenty of water - If you are thirsty, you are already dehydrated.
If someone needs help send someone to ski to Yosemite Ski and Snowboard Area or to Glacier Point Ski Hut (two skiers best).
Call 911. If possible, leave someone with the person in trouble.
Last updated: November 4, 2022