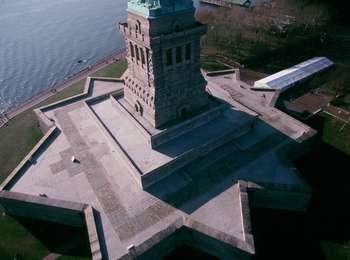 The Statue of Liberty's pedestal sits atop the remains of Fort Wood, originally one link in a chain of defenses protecting New York City and its vital harbor. The fort was built between 1808 and 1811 in the shape of an eleven-pointed star and was occupied by the War Department as an army post until 1937.
The eleven-pointed star design was brought to North America by French military engineers in the 17th century. The fort acted as a lookout position with harbor guns entrenched near the shore.
Why is it called Fort Wood?
Fort Wood is named in honor of Lieutenant Colonel Eleazer Derby Wood. An American Army engineer who died in the siege of Fort Erie, Ontario, on the Canadian front of the War of 1812. Lt. Col. Wood was born in New York City and graduated from the United States Military Academy in 1806.
What is it made out of?
The exterior walls of the fort are covered with a grey-blue granite from Blue Hill, Maine. The granite is bonded to the rubble masonry walls with concrete. Most of the work was completed during the summers of 1845-1847. Remember, this work couldn't be completed in the below freezing temperatures of a winter in New York Harbor.
Last updated: February 18, 2021