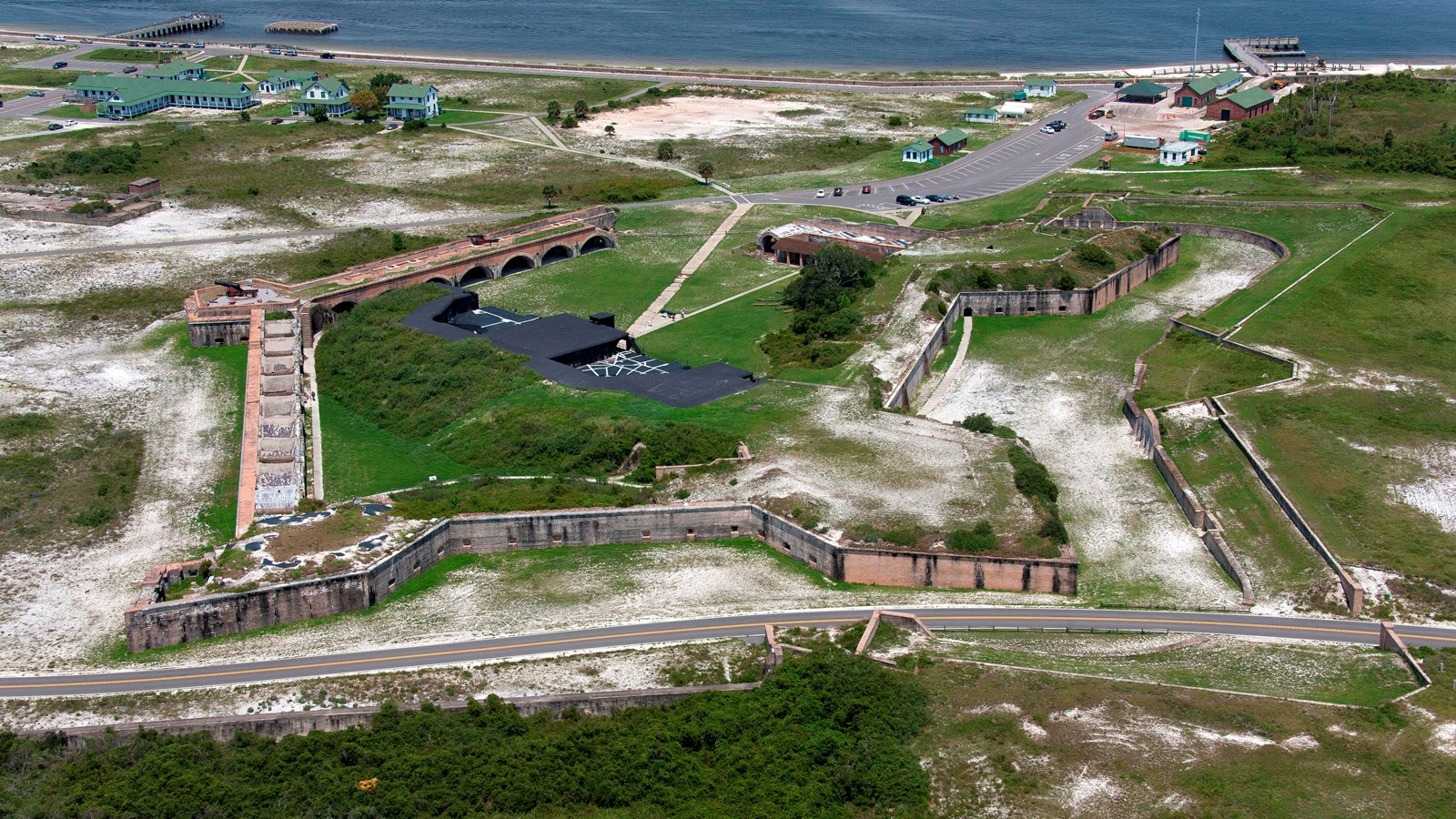 Location:
Fort Pickens, Florida
Gifts/Souvenirs/Books, Historical/Interpretive Information/Exhibits, Information, Information - Maps Available, Information - Park Newspaper Available, Scenic View/Photo Spot, Trailhead
The United States Army built Fort Pickens in the 1800's to help defend the Gulf Coast from overseas enemies. In 1821, the Third System of coastal forts was extended to include protecting Pensacola Bay and the communities that lined the mainland shore. Pensacola Bay had long been considered important by European powers that sought to colonize North America.

By 1825, legislation was passed to establish a navy yard and depot on the bay. Fortifications were needed to protect the new territory, its resources, and assets.

From Santa Rosa Island, the fort worked with Fort McRee on Perdido Key to guard the entrance to Pensacola Bay. Fort Barrancas and the Spanish Water Battery, staring down from a bluff facing the harbor's entrance, added more protection. Fort Barrancas and Advanced Redoubt guarded the Pensacola Navy Yard from land attacks.

What many people don't know is that Fort Pickens was built on a bed of violence and cruelty. The Army forced enslaved Black men to build and later repair the fort. This didn't stop Fort Pickens from becoming a destination on the Underground Railroad during the Civil War and after. Freedom-seeking African Americans traveled to the fort to emancipate themselves.

Following the Civil War and after the Apache Wars ended in the 1880's, the Army concentrated Chiricahua Apache at Fort Pickens. Prisoners of war like Geronimo, a leader and medicine man, labored at the fort for one and a half years. The Chiricahua Apache remained prisoners of war for another 27 years.

However, new technologies made Fort Pickens outdated. The Army continued using the fort until the end of World War II. In the 1890s, the fort supported an underwater minefield. Soldiers kept supplies for Battery Pensacola inside the fort's brick rooms. In the early 1900's, the Army set up a power plant in the fort to create electricity for the base.

Fort Pickens joined the National Park Service's Gulf Islands National Seashore in 1971. Today the fort stands as a monument to military technology and as a memorial to past injustices.
Last updated: March 24, 2022