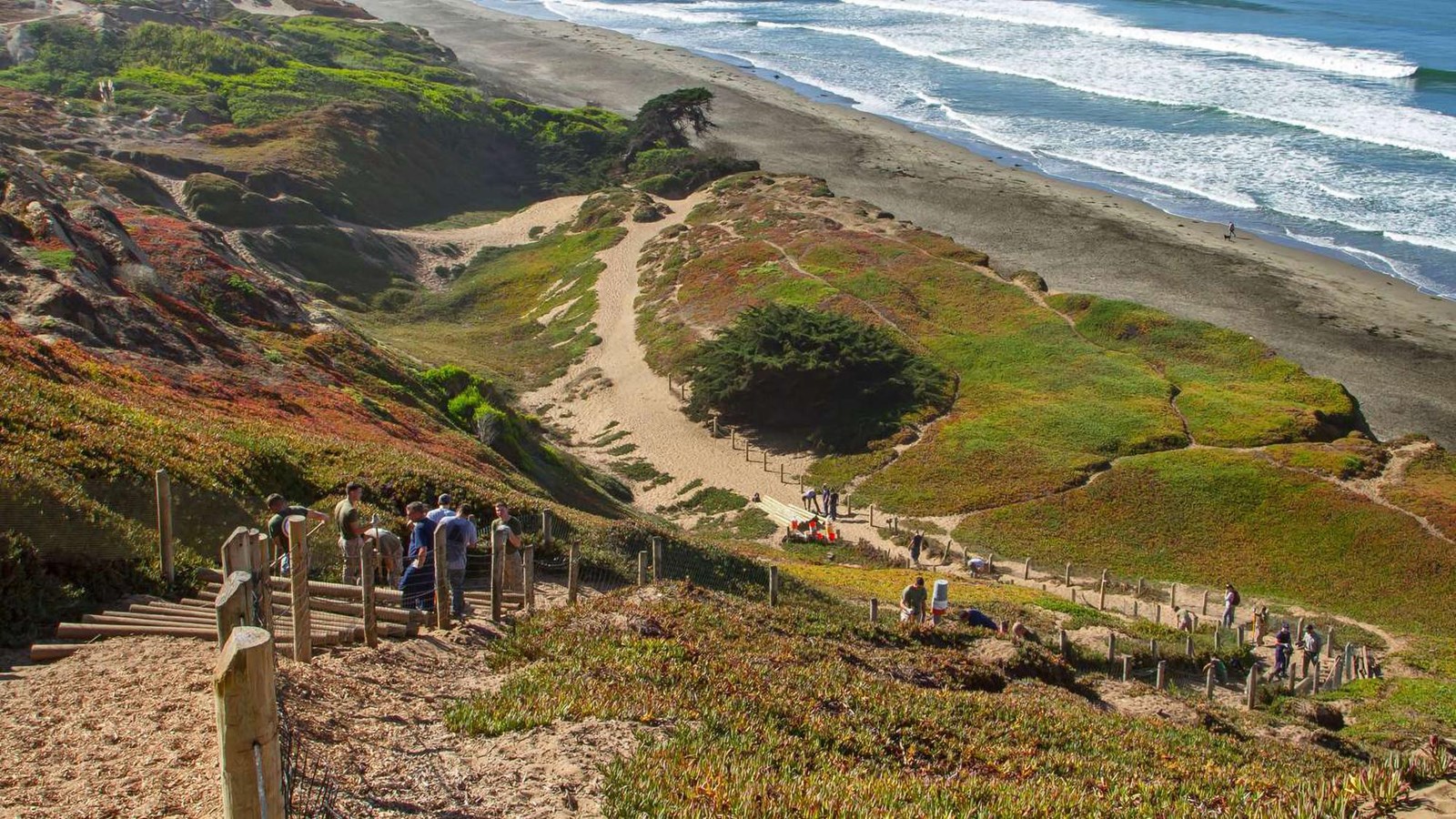 Fort Funston is a great place to lay out and soak up some sun on a fog-free day. But no matter the weather, Fort Funston is a primo spot to chill with your dog friends on or off leash.
Trails at Fort Funston
While most of the trails at Fort Funston aren't too difficult, some can be a bit tricky. Some sections of trail require scrambling up and down sand dunes. The dunes here move frequently because of high winds, sometimes making trails difficult to find or follow, and the loose sand on the dunes slows mobility. One trail in particular, the Sand Ladder Trail, is very steep but brief. Dog friends are permitted off leash under voice control, except for the 12-acre closure in northwest Fort Funston. Hikers and horse friends share the Bay Area Ridge Trail.

The sand dunes here at Fort Funston used to be characteristic of the entire San Francisco peninsula. Now, Fort Funston is one of only a few parts of the city where active sand dunes still exist.
Fearless Freddie Funston
General Frederick Funston, for whom Fort Funston is named, stood only 5' 5", but what he lacked in height he made up for in moxie. He was a botanist for a time with the US Department of Agriculture, which took him on assignment to some pretty out there places, including the Dakota Badlands, Death Valley, Yosemite and Alaska. His appetite for world travel officially whetted, Funston did something rather bold, and volunteered with Cuban rebels in their war for independence from Spain, where he fought in 22 battles.

Upon returning to the US, he was appointed colonel of the volunteer 20th Kansas Infantry Regiment. Funston and his men trained at the Presidio of San Francisco before deploying to the Philippines, where they saw serious combat in the Filipino Insurrection.

Funston was an unabashed imperialist, so zealous in his remarks that President Theodore Roosevelt asked him to stop speaking publicly because he rubbed people the wrong way. Funston's exploits even drew attention from another famous American with ties to San Francisco, satirist Mark Twain, who condemned the general in his humorous essay, A Defense of General Funston.

Divisive, but effective, Funston returned to the Presidio as a commander of the Department of California. As fate would have it, Funston was in control of the Presidio on April 18, 1906, the day of the San Francisco earthquake. In typical Funston fashion, he seized the reins of control, mobilizing troops, heading up relief efforts and even overseeing the dynamiting of buildings to create fire breaks. Some criticized him for overstepping his role, but Funston's quick decisions helped a city reeling amid disaster. In San Francisco, Funston was remembered as a hero. Tens of thousands came to pay their respects to his body on display at the rotunda at City Hall after he died. He was laid to rest in the San Francisco National Cemetery in the Presidio.
History of Fort Funston
In 1890s, the Army Corps of Engineers was hard at work updating coastal defenses around San Francisco Bay. Plans were drawn to build two mortar batteries between Laguna de la Merced and the Pacific Ocean. The plans were pretty basic, and in 1917, as the post added 150 acres to its grounds, troops assigned to Fort Funston were living in tents while they built their own wood frame barracks.

The San Francisco Chronicle reporters describing the first flag raising ceremony over Fort Funston parade ground were none too impressed by what they saw, saying the battery resembled a rustic frontier outpost. Despite the fort's humble first appearance, it was a significant outpost, eventually equipped with 16-inch guns and later, during the Cold War, nuclear Nike missiles.
Nike Site
During the Cold War, Fort Funston housed SF-59, one of the Bay Area's twelve Nike missile defense sites. These missile sites were installed around the bay and other areas in the US to defend against potential Soviet airstrikes. Concerns regarding the missiles' ability to accurately identify multiple targets flying in formation along with their limited range, led the Army to arm them with nuclear payloads, which compensated for their design shortcomings. Of course, having nuclear warheads near a large urban center came with its own serious risks. Thankfully, an attack never came, and the missiles were never fired.
Last updated: March 24, 2022