Place
Firehole Canyon Swimming Area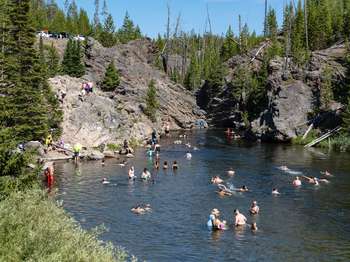 Location:
Madison Junction Area
Toilet - Vault/Composting
The river is usually closed to swimming until mid-summer due to high water and strong currents. During years with significant snowpack and runoff, the swim area may remain closed for the entire season. Check our current conditions page for status. Water wings are allowed and life jackets are recommended.
Limited parking is often full and overflowing.
Regulations
Swimming is only permitted during designated hours. The Firehole Swim area is closed at night.
Bathing suits are required.
No food, drink, or alcohol allowed. Cans, bottles, and plastic containers are prohibited in the swim area.
Use of soap, shampoo, conditioner or any other substance is prohibited (even if it's biodegradable).
Climbing, diving, or jumping from the cliffs or from trees in the area is prohibited.
Rafts, tubes, noodles, pool floats, and similar water toys are prohibited
In case of emergency, call 911.
More Soaking & Swimming
Swimming is not recommended in Yellowstone, and is occasionally prohibited, because most lakes and streams are dangerously cold.
Think Safety, Act Safely
From burning hot hydrothermal features, to unpredictable wildlife, to steep terrain, Yellowstone is a dangerous place. You are responsible for your safety. As such, please remember these safety tips:
Never touch any hydrothermal waters—they can scald you.
Observe safe distances from all wildlife.
Stay behind fencing, guard rails, and ledges.
Use caution when around park waters—they are cold and fast.
Show patience and courtesy to other people.
Last updated: August 16, 2022