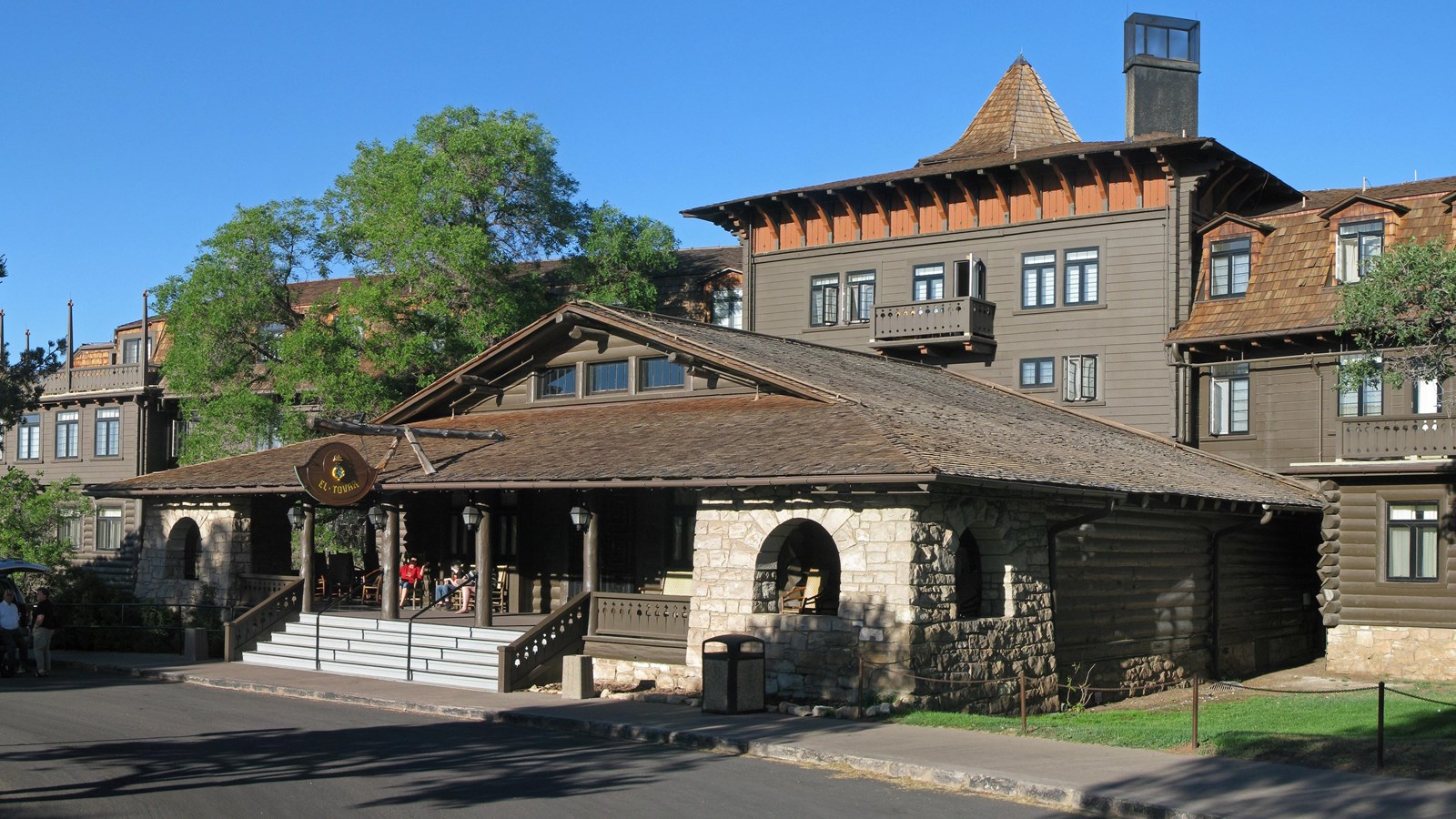 Location:
Grand Canyon Village
Designation:
National Historic Landmark
Accessible Rooms, ATM/Cash Machine, Audio Description, Automated Entrance, Automated External Defibrillator (AED), Fire Extinguisher, Food/Drink - Bar/Alcohol For Sale, Food/Drink - Cafeteria, Food/Drink - Coffee, Food/Drink - Restaurant/Table Service, Food/Drink - Snacks, Food/Drink - Vending Machine/Self Service, Gifts/Souvenirs/Books, Information, Restroom, Telephone, Wheelchair Accessible
Located right on the rim of Grand Canyon, El Tovar Hotel features a fine dining room, lounge, gift shop, and newsstand. Guests can expect full bell service, a lobby concierge, and in-room dining.
Dining Room / Lounge Hours
Breakfast: 6:30 am - 10 am
Lunch: 11 am - 2:30 pm
Dinner: 4:30 pm - 9:30 pm
*Advanced reservations are required for lunch and dinner at El Tovar Dining Room. Online reservations can be made here.
El Tovar Lounge 11:30 am to 9:30 pm
El Tovar Patio (Limited Menu) 11 am to 8 pm
Dinner Reservations
Please call 928-638-2631, ext. 6432 to make a reservation.
El Tovar Hotel guests can make dinner reservations 90 days in advance.
Visitors not staying in the hotel can make a dinner reservation 30 days in advance.
Dress Code
The El Tovar dining room offers a classic, fine dining experience. While jackets are not required, please use discretion and dress appropriately. Shorts and flip flops are discouraged.

Scroll below or visit El Tovar's website for further information on accommodations, menus, and hours of operation.
Accommodations
El Tovar has 78 rooms, many of which are suites. Due to the hotel's historic nature, no two rooms are alike, which is part of its distinctive charm.

Because of their unique nature and high demand, these rooms cannot be reserved online. Contact the hotel toll-free at 888-297-2757 to make a reservation.

El Tovar Hotel offers accessible rooms. To see available ADA-compliant rooms check the "ADA/Accessible Rooms" box in the online reservations application or call Central Reservations at 888-297-2757.
Fred Harvey Food Truck at the Train Depot
11 am to 4 pm (Sunday through Thursday Only)
Lodging and Contact Information
For day-of check-in and lodging availability at El Tovar, check with staff directly at the El Tovar Hotel lobby desk, or call 928-638-2631 and ask to be connected to the hotel front desk. 

For advance reservations, which are recommended for all holidays and throughout the summer, visit www.grandcanyonlodges.com or call toll-free within the US 888-297-2757. For those outside the US call 303-297-2757.
History
Designed by Chicago architect Charles Whittlesey, the structure was conceived as a cross between a Swiss chalet and Norwegian villa in an effort to accommodate the elite of that era.

First opening its doors in 1905, El Tovar was built from local limestone and Oregon pine, costing nearly $250,000 to build. Initially owned and operated by the Fred Harvey company in conjunction with the Santa Fe Railway, many considered it the most elegant hotel west of the Mississippi River.

In 1987, the hotel was designated a National Historic Landmark.
Last updated: September 22, 2022