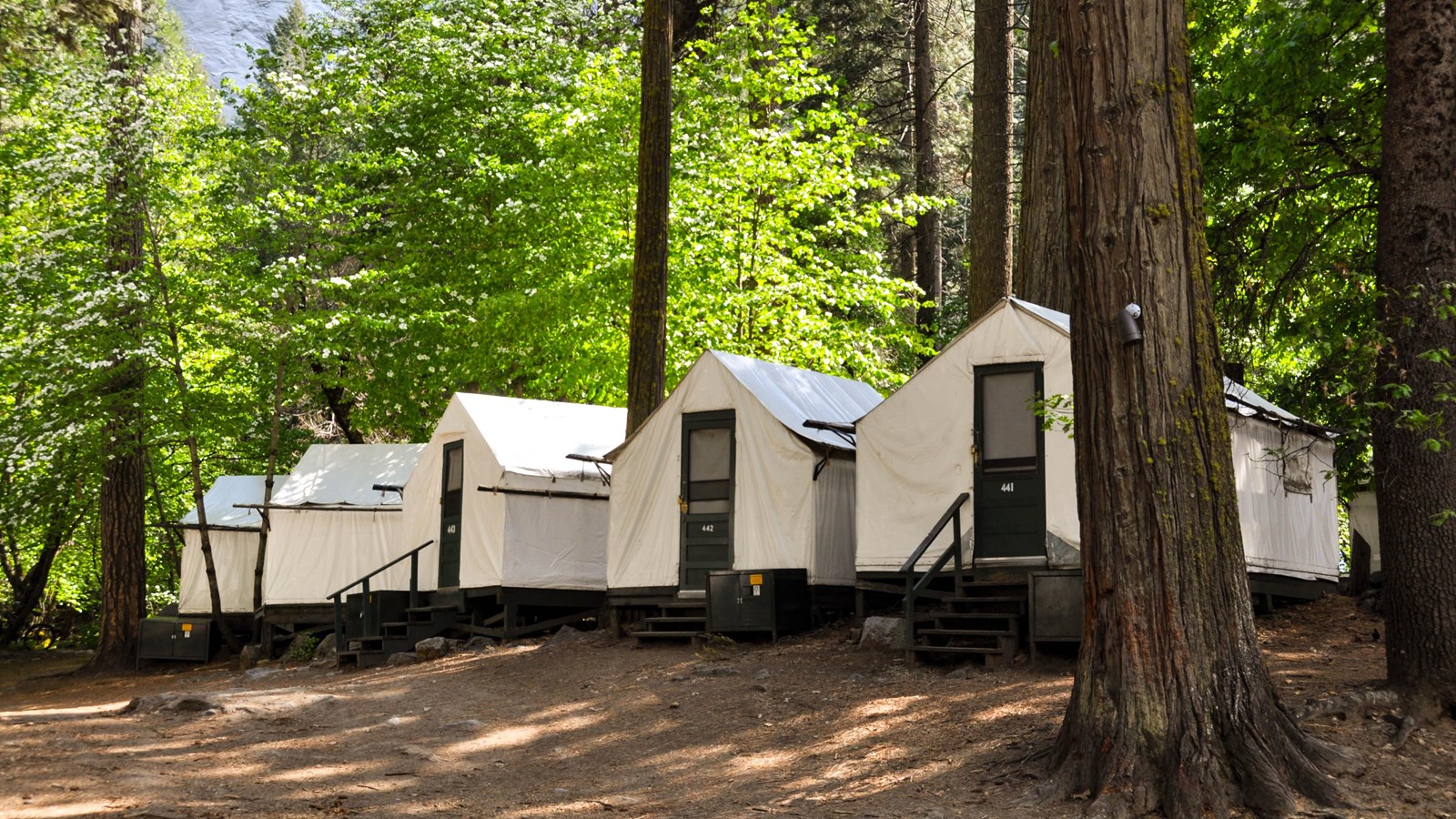 Accessible Rooms, Amphitheater, Animal-Safe Food Storage, Benches/Seating, Bicycle - Rack, Bus/Shuttle Stop, Food/Drink - Bar/Alcohol For Sale, Food/Drink - Cafeteria, Food/Drink - Coffee, Food/Drink - Ice Cream, Food/Drink - Snacks, Gifts/Souvenirs/Books, Groceries/Convenience Items, Historical/Interpretive Information/Exhibits, Ice, Parking - Auto, Recycling, Restroom, Showers, Supplies - Camping/Outdoor, Trash/Litter Receptacles, Wheelchair Accessible
Beneath the grandeur of Glacier Point, Curry Village is known for the same warm, hospitable feeling that was instilled by its founders, David and Jennie Curry in 1899.
Curry Village features standard hotel rooms, wood cabins and canvas tent cabin accommodations. Numerous dining options and activities are available at Curry Village.
There is a gift shop, multiple dining options, a bar, a mountaineering school, and an outdoor swimming pool on the premises. See the latest issue of the Yosemite Guide for hours.
See website for more information about the rooms, to check availability, to book a room, and to get an idea of what to bring, and what to do in the Curry Village area.
Curry Village cabins comes with one bear locker measuring:
35.5"W x 20.5"D x 23" H (Small Tent Cabins)
47.5"W x 20.5"D x 23" H (Large Tent Cabins)
Hours
The front desk is staffed 24 hours a day. Visit website for specific seasonal dates of operation.
Check-in: 4 pm
Check-out: 11 am
Getting Here
You can reach Yosemite Valley via Highways 41, 140, and 120. Follow signs for Curry Village, located in eastern Yosemite Valley. Curry Village is also serviced by the Valleywide and East Valley Shuttles at stops #14 and #19.  
Rules & Regulations
Smoking is strictly prohibited at all accommodations and buildings in Yosemite.
There are no pets allowed on property.
Bear-proof food lockers must be used to store all scented items. This includes all food, drinks, coolers, toiletries, and trash.
Food Storage Guidelines:
Treat your food locker like a refrigerator-never leave it open.
Place food inside resealable containers and store the containers in the food lockers.
Ensure your food locker is fully closed and latched, even when padlocked.
When you leave, empty your food locker. Guests who don't comply with our food storage policies may receive a fine up to $5,000 and be removed from the
Park. Vehicles used for food storage may be impounded.
To help keep wildlife wild, cooking isn't permitted inside your tent cabin or anywhere in Curry Village. If you'd like to grill, you can find picnic areas with grills in Yosemite Valley.
Hazards & Warnings
Bears have broken into cars, sometimes when only a candy wrapper or closed cooler was in view. If staying overnight, remove all scented items, food related or others and store in bear-proof storage lockers.
Accessibility
All lodging facilities in the park meet accessibility requirements. The standard hotel rooms, wood cabins and canvas tent cabins all offer an accessible room. Designated accessible parking spaces are available in the 30-minute parking lot located on the east side of the Curry Village front office, as well as in the overnight parking areas located to the north and south of the front desk.
Last updated: May 23, 2022