Place
Curry Village Parking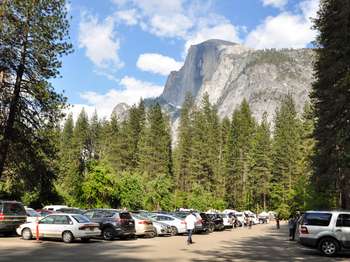 Parking - Auto, Recycling, Trash/Litter Receptacles, Wheelchair Accessible
In the mid 1800s, European-American settlers planted apple trees around Yosemite Valley to provide fresh produce and cider to its growing number of visitors. Now, this area serves as a parking lot for those who wish to use the Curry Village lodging, dining, and gift shop services, or to use the free shuttle bus.

Hours:
Year-round

Getting Here:
You can reach Yosemite Valley via Highways 41, 140, and 120. Follow signs for Curry Village, located in eastern Yosemite Valley. 

Rules & Regulations:
Sleeping in your car or RV overnight in a parking lot or along the side of the road is not allowed.
Please be conscious of your car's alarm during quiet hours. False alarms are very disruptive to wildlife and other visitors.
You may store food inside your car (out of sight, with windows completely closed) only during daylight hours. Empty your car of all food, drinks, coolers, toiletries, and trash after dark. Even an empty candy bar wrapper is enough temptation to entice a bear to break into your car. Vehicles containing food after dark may be impounded and/or cited.

Hazards & Warnings:
During the busy summer, you are likely to experience congestion, especially in Yosemite Valley. Be prepared for delays, especially in afternoons and on weekends. Plan accordingly and use restrooms when available. It is best to arrive by mid-morning to find parking and avoid traffic delays.

Accessibility:
There are designated accessible parking spaces near pathways leading toward the Curry Village cabins.
Last updated: July 2, 2023