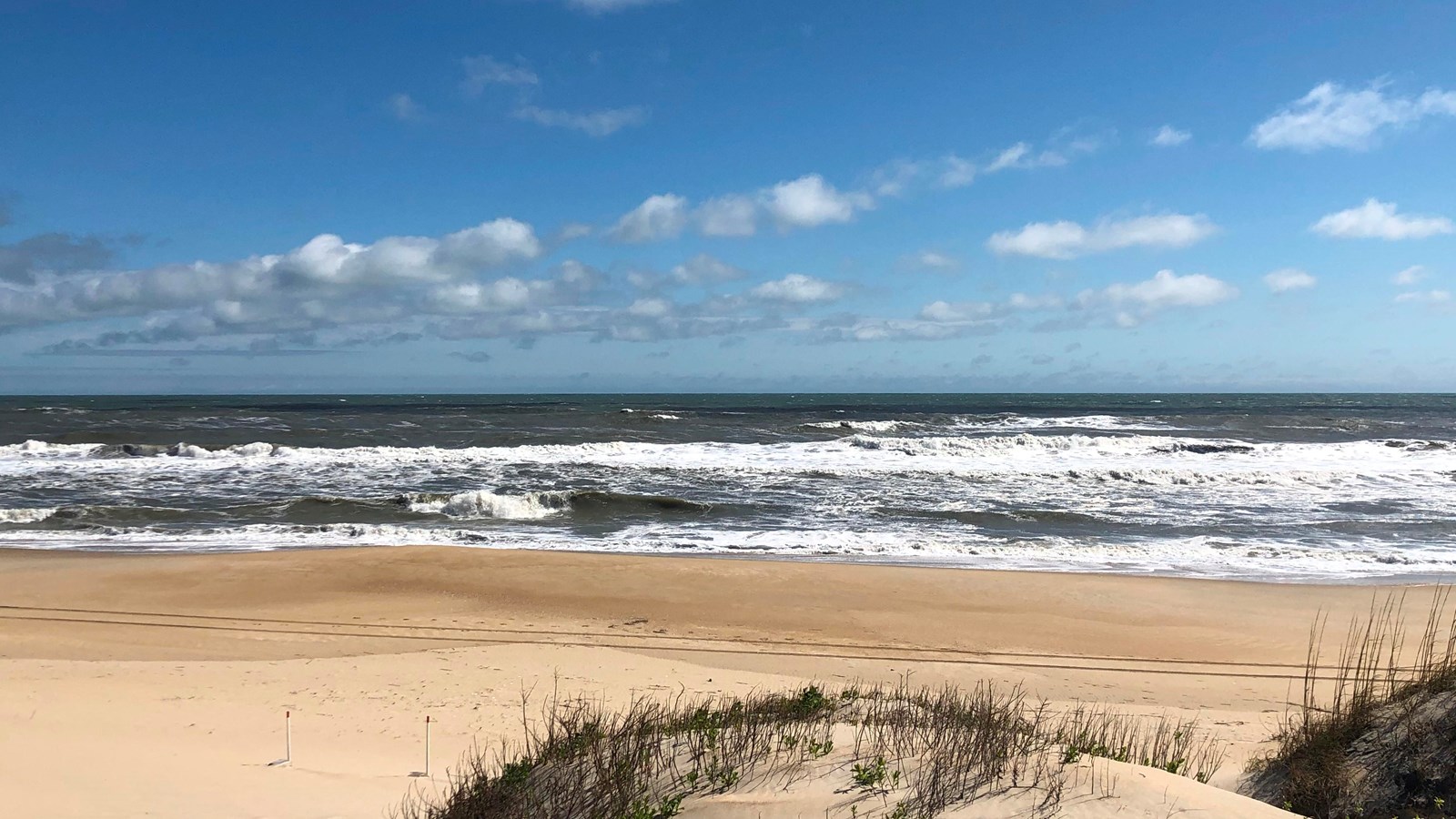 Significance:
Lifeguarded Beach
Baby Changing Station, Beach/Water Access, Historical/Interpretive Information/Exhibits, Parking - Auto, Parking - Boat Trailer, Parking - Bus/RV, Restroom, Showers, Water - Bottle-Filling Station, Wheelchair Accessible
Enjoy the refreshing waters of the Atlantic Ocean at this swim beach in the northern part of the seashore. During the summer season, there is a lifeguarded beach area and a bathhouse with 14 changing rooms (two that are accessible), four outdoor showers, and bathrooms. A boardwalk leads out to the beach from the bathhouse, as well as a primitive path at the northeastern end of the northern parking lot.

Coquina Beach Access is located right off of Highway 12, directly across from the access road to the Bodie Island Lighthouse inbetween the town of Nags Head and Oregon Inlet.

There are parking lots to the north and to the south of the bathhouse. The northern parking lot has 5 accessible parking spaces, 49 regular parking spaces, and 9 spaces for longer vehicles. The southern parking lot nearest the bathhouse also has 5 accessible spaces and 62 regular spaces. The parking lot south of the bathhouse that is closest to Off-Road Vehicle Ramp 2 has 3 accessible spaces and 59 regular spaces.

Other amenities around the bathhouse and parking lots include trash bins, a recycling station just south of the bathhouse, a drinking fountain and water bottle filling station (available only when the bathhouse is open) in the middle of the bathhouse, and a bike rack to the south of the bathhouse.
Know Before You Go
The seashore is an enjoyable place for swimming, but rough surf and rip currents can turn a fun visit into a frightening one. Tides, waves, and winds constantly barrage these barrier islands. Even at the shore's edge, crashing waves can pick you up and throw you to the sandy bottom causing injuries.
Last updated: November 7, 2021