Place
Butt-Millet Memorial Fountain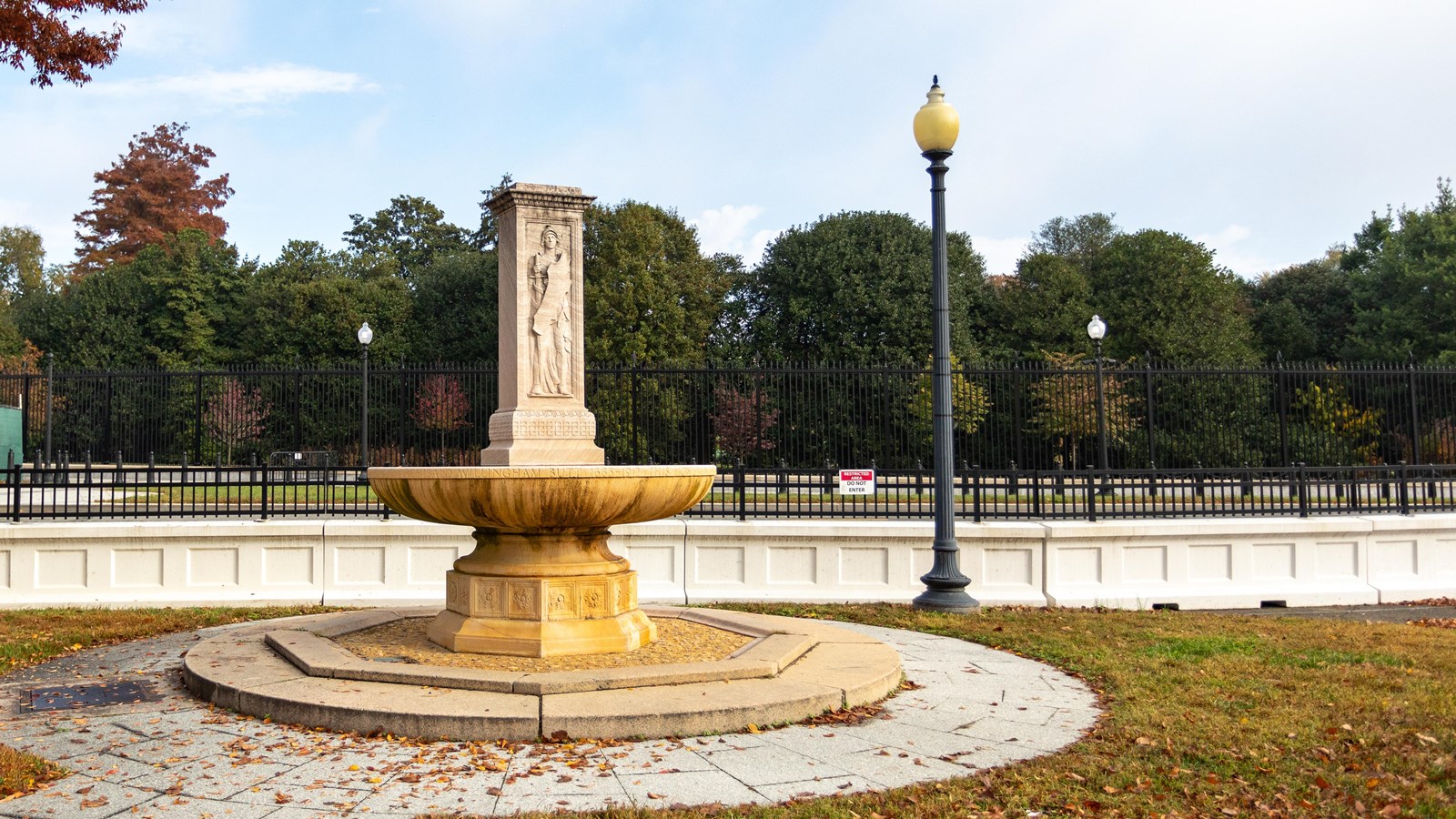 Mystery has surrounded Archibald Butt and Francis Millet ever since their tragic death aboard the RMS Titanic on April 15, 1912. Believed to be the only officials of the United States who perished aboard the ship, Congress passed a joint resolution soon after their death authorizing the construction of a memorial in their honor.
Sculpted by Daniel Chester French, the Butt-Millet Memorial Fountain was the first memorial built on the Ellipse. Both the design and location of the memorial fountain were carefully chosen to represent the two close friends.
Both men were widely known in Washington's cultural, social, and political circles. Millet was a painter and a member of the Fine Arts Commission. He also directed the American Academy in Rome, Italy. Major Butt had been a military aide to both President Theodore Roosevelt and William Howard Taft. The fountain is not far from where Major Butt's White House office was located. The military figure with sword and shield represents Major Butt, and the artist with palette and brush represents Mr. Millet. Besides being a memorial, the fountain was designed to double as a water fountain for the horses ridden by U.S. Park Police while on patrol.
Some historians have asserted that Butt and Millet were involved in a romantic relationship. Millet and Butt were close friends and housemates, often attending social gatherings and parties together. The two had vacationed in Europe together and were returning home to the United States aboard the Titanic. Butt's eulogy in the Washington Times recalled that, "the two men had a sympathy of mind which was most unusual." Noting that Butt was, "mourned by Washingtonians of all walks of life," the article claimed, "None could help admiring either man."

Memorial authorized 1912 (37 Stat. 644), dedicated 1913

Sculptor: Daniel Chester French

Inscriptions
In memory of Francis Davis Millet 1846-1912 and Archibald Willingham Butt 1865-1912. This monument has been erected by their friends with the sanction of Congress.
Last updated: May 17, 2023