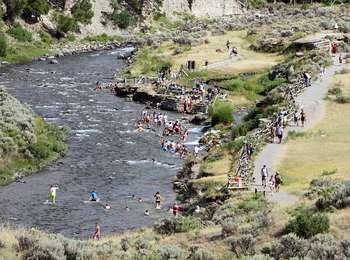 Location:
North Entrance Area
Historical/Interpretive Information/Exhibits, Recycling, Toilet - Vault/Composting, Trash/Litter Receptacles, Wheelchair Accessible
CLOSED
The Boiling River is closed until further notice.
Cold water from the Gardner River mixes with the Boiling River hot spring here. Boiling River is one of the few legal soaking areas in Yellowstone. Soaking in hot springs and other thermal features is prohibited and features are very fragile. You may soak in bodies of water fed by runoff from hydrothermal features.
Limited parking is often full and overflowing in the summer between 10 am and 6 pm. Walk from the parking lot to the designated area on the designated, maintained trail for .5 miles (.8 km).
Swim at your own risk.
There are no lifeguards on duty. Swim only in Gardner River. River currents can be strong.
Indecent exposure is prohibited. Bathing suits are required.
Food and beverages (including alcohol) are prohibited.
Do not deface thermal features.
Do not walk off-trail. Stay on the maintained and designated trail.
Many of Yellowstone's thermally-influenced waters contain organisms that are known to cause serious skin rashes, infections, and/or primary amoebic meningitis, which can be quickly fatal. The thermal waters of Boiling River have been show to support the organisms that can cause Primary Amoebic Meningoenenchepalitis and Legionnaire's Disease. Avoid submerging your head and inhaling thermal steam. If you have any signs or symptoms of irritation or disease, seek medical help immediately.
The only place to change is in a single vault toilet.
Use trash cans.
No camping, no pets, no bikes.
Swimming, wading, bathing, soaking or in any way entering objects in the Boiling River Thermal Channel prior to its confluence with the Gardner River is prohibited._ 36 CFR 1.5 (a)(2)
In case of emergency, call 911.
More Soaking & Swimming
Swimming is not recommended in Yellowstone, and is occasionally prohibited, because most lakes and streams are dangerously cold. Firehole Canyon, near Madison Junction, has a swimming area in summer.
Think Safety, Act Safely
From burning hot hydrothermal features, to unpredictable wildlife, to steep terrain, Yellowstone is a dangerous place. You are responsible for your safety. As such, please remember these safety tips:
Never touch any hydrothermal waters—they can scald you.
Observe safe distances from all wildlife.
Stay behind fencing, guard rails, and ledges.
Use caution when around park waters—they are cold and fast.
Show patience and courtesy to other people.
Aquatic Invasive Species
Red-rimmed melania, a small snail imported by the aquarium trade starting in the 1930s, was discovered in the Boiling River swimming area in 2009.
An aquatic invasive species disrupts ecological processes because it is not indigenous to the ecosystem. Invasive organisms can cause species extinction, with the highest extinction rates occurring in freshwater environments.
Red-rimmed melania is unlikely to survive downstream of the Boiling River during the winter, but it could become established in other thermal water in the park.
Accessibility
Accessible parking space.
The first 50 yards of the compacted soil trail is accessible. Beyond this point, there are rocks, eroded trail surfacing, and drop-offs, as well as a couple small hills with up to a 20% grade.
Last updated: January 3, 2022