Place
Big Trees Trailhead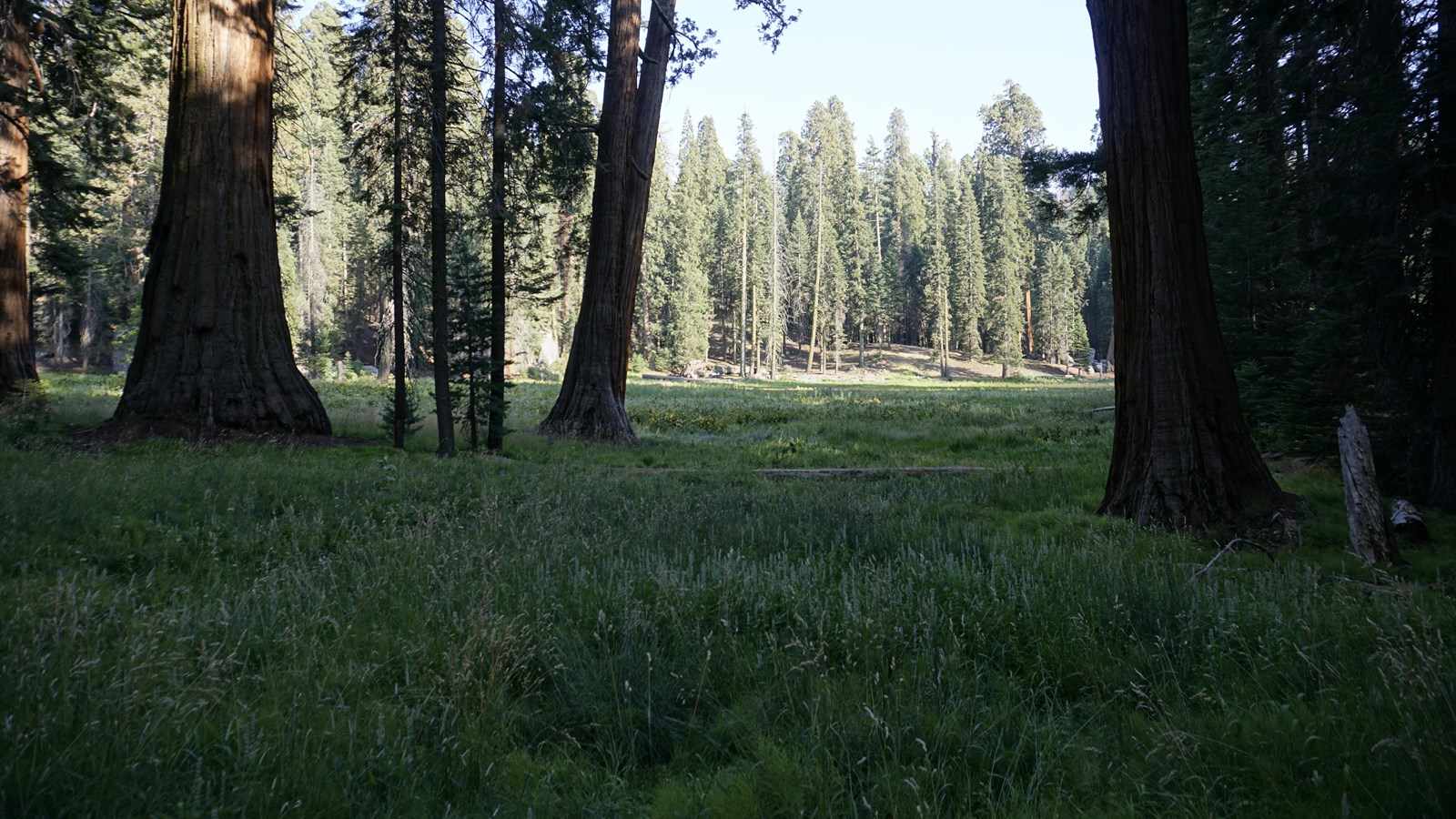 Location:
Along the Generals Highway in Sequoia National Park, less than one mile from the Giant Forest Museum.
Audio Description, Benches/Seating, Historical/Interpretive Information/Exhibits, Information, Information Kiosk/Bulletin Board, Parking - Auto, Recycling, Restroom, Restroom - Accessible, Toilet - Vault/Composting, Trailhead, Trash/Litter Receptacles, Water - Drinking/Potable, Wheelchair Accessible
Big Trees Trail circles Round Meadow in a 0.7 mile loop. It is flat, paved, and has benches along the way. Informational displays offer insight into what you are experiencing. Watch for yellow-bellied marmots, bears, and other wildlife. After taking this trail, consider walking the Hazelwood Meadow Trail on the other side of the road; it leads through another part of the sequoia grove.
Services and Parking
In summer, you can park here if you have an accessible-parking placard; if not, walk here from Giant Forest Museum. A vault toilet and drinking fountain are available in summer. In winter, this small parking lot may be open to all cars, but the drinking fountain and restroom are closed. The closest public telephones are at Lodgepole.
Accessibility
Parking is available at the trailhead for people with disability placards. If you don't have a placard but need to park closer to the trailhead, temporary placards are available at visitor centers.

In winter when roads are snowy, the trailhead parking area is open to all.
Community Science
Giant sequoia trees have called the Sierra Nevada mountains home for thousands of years. These silent watchmen have observed change across this landscape throughout their expansive lifetimes; a closer look at these trees provides curious visitors with clues about our climates' past, present and future.

If you'd like to learn more about sequoias, join a park ranger for a guided hike through the Giant Forest and gain an understanding about forest health, fire ecology, and the life cycles of the largest trees on earth. Try your hand at measuring the diameter and height of these giants as part of an ongoing community science project. Middle and high school field trips, college classes, and volunteer groups of all ages are welcome to join for a fun-filled, informative day of exploration! Call Sequoia and Kings Canyon National Parks' Education Office at 559-565-4211 or email seki_ritc@nps.gov for more information.
Last updated: December 6, 2021