Place
Beach Access Ramp 25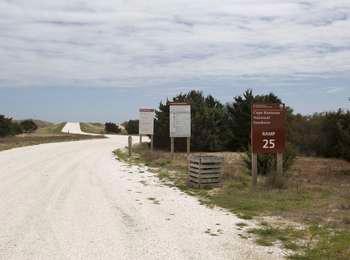 Significance:
Beach Access Off-Road Vehicle Route
Beach/Water Access, Trash/Litter Receptacles, Wheelchair Accessible
Ramps are subject to closure. For the most current status of beach access ramps, go to https://go.nps.gov/beachaccess.

Beach Access Ramp 25 provides year-round off-road vehicle and pedestrian access to the beaches south of the village of Salvo, North Carolina.

A dedicated off-road vehicle ramp and an ADA-compliant pedestrian boardwalk lead out to the beach. There are ten normal-sized parking spots, as well as one accessible spot in the lot with the boardwalk. At the entrance to the vehicle ramp is a parking lot for six normal-sized vehicles, for either carpooling or managing tire pressure.
Know Before You Go
The seashore is an enjoyable place for swimming, but rough surf and rip currents can turn a fun visit into a frightening one. Tides, waves, and winds constantly barrage these barrier islands. Even at the shore's edge, crashing waves can pick you up and throw you to the sandy bottom causing injuries.
 
Off-road Vehicle Use

For beaches open to off-road-vehicle use, an off-road vehicle permit is required. Annual permits (from date of purchase) are $120 and 10-day permits are $50. Vehicles must be licensed, insured and registered; you must present your driver's license and vehicle registration. Permits must be purchased online at Recreation.gov 
Last updated: March 5, 2021