Place
Beach Access Ramp 2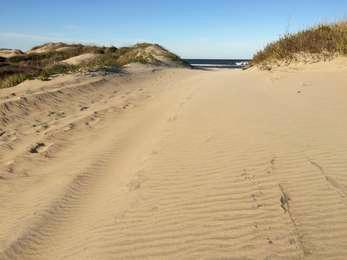 Significance:
Beach Off-Road Vehicle Route
Beach/Water Access, Historical/Interpretive Information/Exhibits
Ramps are subject to closure. For the most current status of beach access ramps, go to https://go.nps.gov/beachaccess.

Beach Access Ramp 2, located on the southern end of the Coquina Beach parking area, provides pedestrian access to the Atlantic Ocean beaches near the Coquina Beach Day Use Area. Two outdoor exhibits, "Know Before You Go" and "Islands on the Move," explore the topics of ocean swimming safety and barrier island migration.

Parking is available to the north of the pedestrian access.
Off-road Vehicle Use

For beaches open to off-road-vehicle use, an off-road vehicle permit is required. Annual permits (from date of purchase) are $120 and 10-day permits are $50. Vehicles must be licensed, insured and registered; you must present your driver's license and vehicle registration. Permits must be purchased online at Recreation.gov 
Last updated: March 5, 2021