Place
Ash Mountain Entrance Station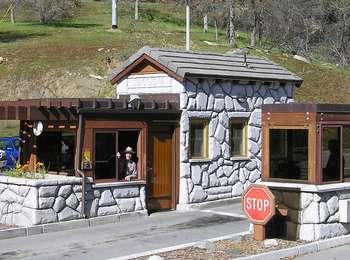 Location:
Located along Charles Young Memorial Highway/Highway 198 at the Three Rivers, California and Sequoia National Park boundary.
Audio Description, Entrance Passes For Sale, Information, Information - Maps Available, Information - Park Newspaper Available, Information - Ranger/Staff Member Present
Due to COVID-19, this entrance station will only be collecting entrance fees and handing out orientation and safety publications-please consult this app, visitor centers or the web for additional park information.

Welcome to Sequoia and Kings Canyon National Parks! This entrance station is probably your first stop within the parks if you are coming from Visalia.

Beyond the entrance station, the road is narrow and winding. Vehicles longer than 24 feet are not advised between Foothills Visitor Center and Potwisha Campground. Vehicles longer than 22 feet (6.7 km) are not advised between Potwisha Campground and Giant Forest Museum.

Foothills Visitor Center is one mile beyond the entrance station and is open daily from 8:00 am - 4:30 pm. Stop here for trip planning information and maps.

As you climb from the foothills to the forests, weather will get cooler. You'll reach the giant sequoia groves about 45 minutes beyond the entrance station.
Be Prepared
There are no gas stations within park boundaries, although there are limited, seasonal stations on nearby national forest lands. Electric vehicle charging stations may be available near Lodgepole and in Grant Grove.
Last updated: November 12, 2021