Place
10th New York Monument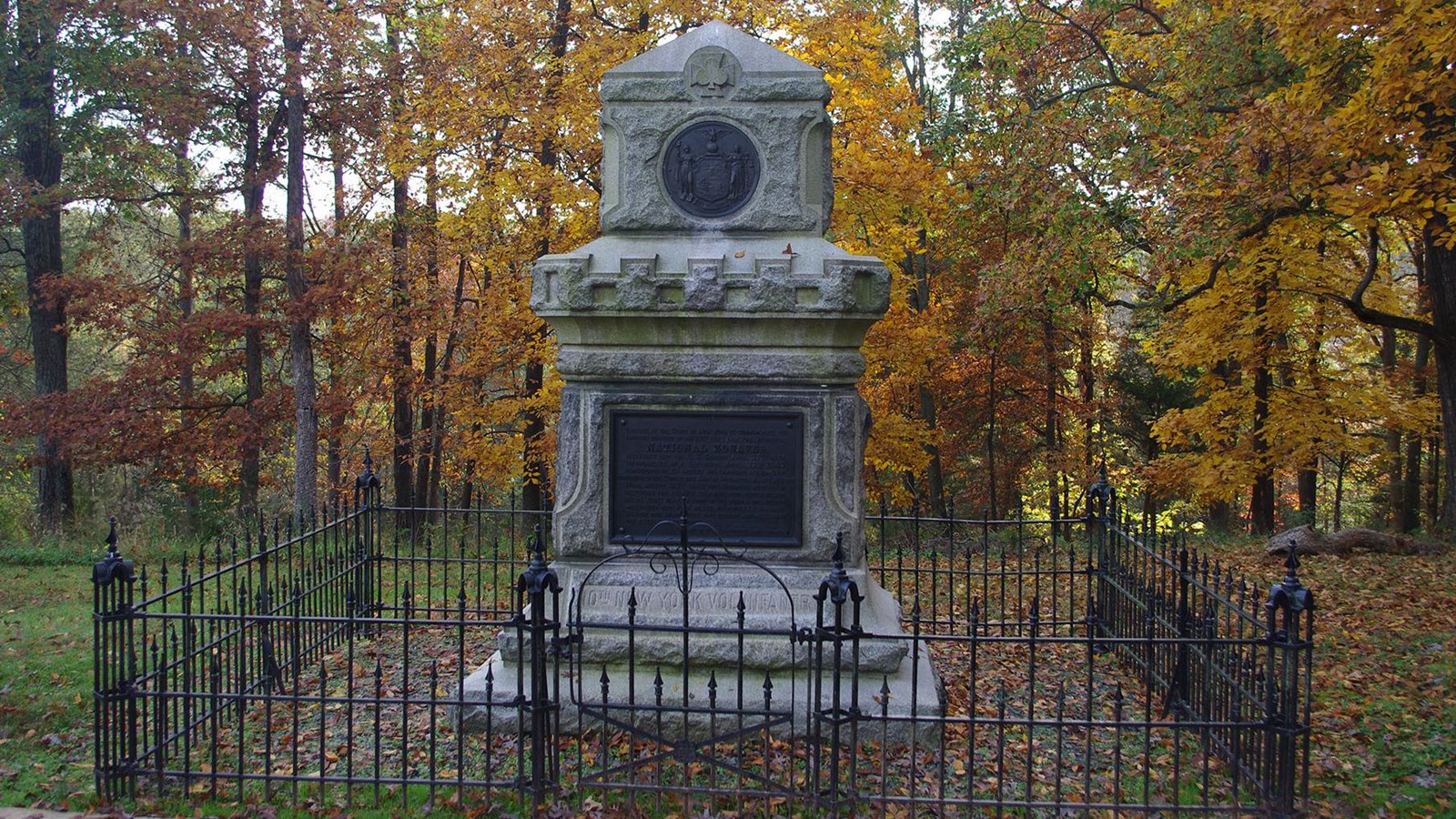 Location:

Manassas, Virginia

Significance:

Civil War Monument

Designation:

National Battlefield Park

Historical/Interpretive Information/Exhibits

The 10th New York Volunteer Infantry Regiment was organized on April 27, 1861 and saw continued service until the surrender at Appomattox, Virginia, in April 1865. Known as the "National Zouaves," the regiment participated in the Seven Days Battles around Richmond and was brigaded with the 5th New York Volunteers (Duryee's Zouaves), the brigade under the command of Col. Gouverneur K. Warren.

At Second Manassas, the brigade was held in reserves through most of the battle until August 30, 1862. At about 1:45 p.m., Warren moved his small brigade into position south of the Warrenton Turnpike to support Hazlett's Battery D, 5th U.S. Artillery, which had been ordered to a hill near the Groveton intersection. The 10th New York, approximately 510 strong, took position to the south of the hill, with six companies pushed out to the west edge of the woods. The remaining four companies deployed in the woods to their rear and on the left flank of the 5th New York.

The 10th was in position when Longstreet's Confederate attack bore down on them rolling up the Union left. With no support other than the 5th New York and Hazlett's Battery, the regiment was almost instantly decimated by the attacking Confederates. In the space of a few minutes of brave but hopeless resistance, the 10th New York lost 115 soldiers.

The monument was erected by the State of New York in 1906.


Inscription:

Erected by the State of New York, to commemorate the patriotic services of the 10th Reg't New York Volunteers
National Zouaves
Mustered into the U.S. Service April 27th 1861. Reorganized as a Battalion, April 27th 1863. Participated in 23 battles and campaigns, including the surrender of the Confederate Army at Appomattox, Va. April 9th, 1865. Here, August 30th 1862 the Regiment assisted in resisting the assault of a superior force of the enemy, losing nearly a third of its number, one officer and thirty men were killed or mortally wounded. "Braver men than those who fought and fell that day could not be found."


 Report of Col. G.K. Warren, Com'd Brigade.
 
Last updated: February 1, 2021