Pets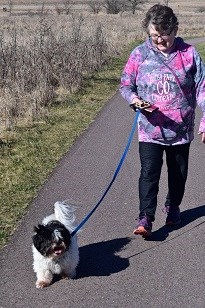 Many visitors enjoy the company of their pets as they experience the park. In order to preserve this cherished resource and keep the park clean and safe for all visitors, please observe the following guidelines when bringing your pet(s) into the park.
Pets are not permitted in the visitor center. (Exception: Service animals are permitted while functioning in their work capacity.)
Adequate water, shade, and supervision are all important considerations for your pet, especially in the hot summer months. Pets may not be left unattended or tied up outside while at the park.
All pets must be on a leash
Pets must be kept on a six-foot leash and under physical control at all times while visiting any area of the park. This prevents encounters between pets and wildlife, protects pets from hazards, and prevents unwanted interaction between pets and other visitors.
Disposal of pet waste
Pet waste may not be left on the ground in the park. Please bring plastic/litter bags and/or a scoop. Once you've picked up your pet's waste with a litter bag, you may dispose of it in any outdoor trash can or remove it from the park.
Cleaning up after your dog is your responsibility. Pet waste can transmit disease to children, other pets and wildlife.
Pet behavior at the park
Pets should be accustomed to proper behavior around people, other pets, and wildlife. Digging, clawing, and other destruction of natural and historical resources are strictly prohibited. Unreasonable amounts of noise and harassment of wildlife are not permitted in the park.
Report loose pets
If your pet escapes its leash and/or becomes lost in the park, please notify park staff immediately. Never abandon a pet, wanted or unwanted, in the park.

For the safety of visitors, pets, and wildlife, if you see a loose pet, please report it to the park staff.


Last updated: November 13, 2019