Pipestone's 75th Anniversary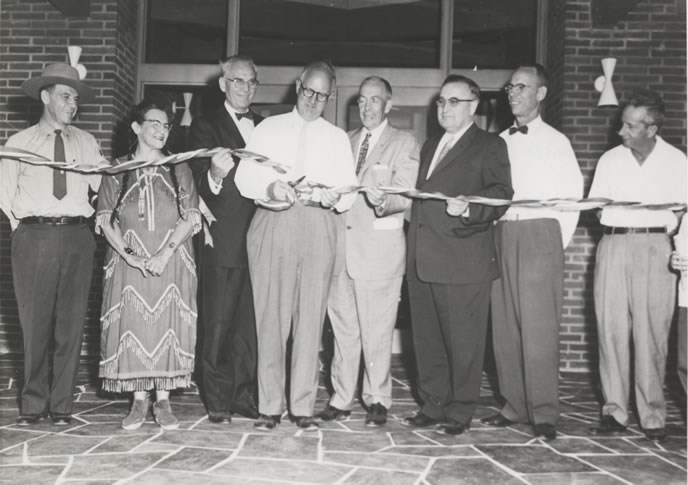 The year 2012 marks the 75th anniversary of the establishment of Pipestone National Monument. The above photo depicts the dedication of the new visitor center, finished in 1958 as part of the Mission 66 initiative. It was later expanded in 1973.

SCHEDULE OF EVENTS
Our 75th anniversary celebration will be full of different activities and guest speakers. To see a complete schedule of events for the day, follow this link. The entry fee for daily admission will be waived on August 25th as a thank you to the Pipestone community and cooperative partners.
COOPERATIVE COMMUNITY EVENTS
In honor of the 75th anniversary celebration, Meinders Community Library and the Pipestone County Museum will be hosting events throughout the month of August. The Pipestone County Museum will have an exhibit on the Monument & its history in regards to the community. The Library will have book displays and books to check out covering Pipestone National Monument, the quarries, and American Indian history.
CELEBRATION INVITATION
A special invitation is extended to all past employees, alumni, volunteers, partners, and their families to join us on Saturday, August 25th. Please complete and return this form for the event.
There will be guided tours and special presentations throughout the day, as well as a celebration ceremony in front of the visitor center at 1PM.
HISTORIC PHOTOGRAPHS AND MEMORIES
In cooperation with the Pipestone County Museum and the community, the Monument is looking to gather old photographs and taped or written memories of the quarries, Pipestone National Monument, and Pipestone community. These items will be used for displays or other public viewing events during the 75th celebration, as well as other future museum events. To view some historic photographs of Pipestone National Monument, see our Photo & Multimedia page.
Please contact the Pipestone County Museum for details on loaning or donating your photographs and memories at:
Pipestone County Museum
Attn: Susan Hoskins
113 South Hiawatha Avenue
Pipestone, MN 56164
507-825-2563
Please call the interpretive division at 507-825-5464 ext. 214 for celebration details and updates or for other monument information.
COMMEMORATIVE ITEMS
In recognition of the 75th Anniversary, limited edition commemorative items will be available for purchase in the Visitor Center. Each packet includes a 'first day cover' envelope and info card enclosed in an archival acid-free poly protector. You can purchase this item with a special Pipestone National Monument USPS useable postage stamp. Pipestone's Postmaster will be setting up an official Post Office Station in the Visitor Center on August 25 for you to 'hand-cancel' these collectible envelopes during the 75th Anniversary celebration. Commemorative coins will also be available in both .995 silver and bronze metal. For those unable to attend our celebration and wishing to obtain a pictorial cancellation, please follow this link for more information and instructions.
Last updated: April 10, 2015