News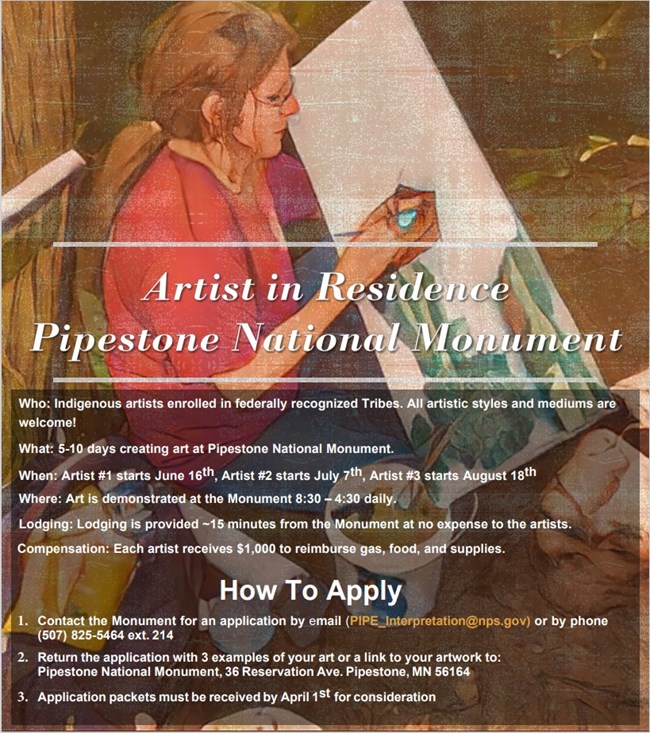 2023 Artist in Residence!
Pipestone National Monument will be hosting an Artist-in-Residence program this summer. Three artists will be chosen; one for each month of June, July, and August. Indigenous artists are encouraged to apply!
All artistic mediums are welcome and each residency will last 5-10 days (duration is at the discretion of the artist). Lodging will be provided at no expense to the artists in the nearby town of Flandreau. At the end of each residency, artists will receive a $1,000 honorarium to cover the costs incurred by supplies, transportation, and food.
Application Deadline is April 1st.
Residency dates are the following:
June 16th - 25th
July 7th - 16th
August 18th - 27th
For an application packet or if you have questions about the program, feel free to contact the park either by phone (507-825-5464 ext. 214) or email (PIPE_Interpretation@nps.gov).
New Museum Exhibits
The original exhibits at Pipestone National Monument were installed when the building was constructed in 1958. For the past few years, the park has worked closely with the input, advice, and guidance of the 23 affiliated tribal nations to create new exhibits for the museum.

The new exhibits were designed to leave visitors with a deeper understanding of the pipe's cultural relevance and a better appreciation for what goes into the process of quarrying.

We look forward to visitors being able to enjoy this new experience in the future.
---
Entrance Fees Suspended
There is no cost for admission while we conduct a cost-benefit analysis of the fee program. Since entry fees are not being collected, we are unable to sell passes, such as the Senior or Annual passes. We still provide the free Accessibility and Military (active duty) passes.
---
National Park Service's 'Every Kid Outdoors' Program
Pipestone National Monument is proud to be part of the Every Kid Outdoors program as part of the commitment to protect our nation's unique outdoor spaces and ensure that every American has the opportunity to visit and enjoy them.
Fourth graders nationwide can visit the Every Kids Outdoors website to obtain a pass that provides free access to students and their families to all federally managed lands and waters–including national parks, forests and wildlife refuges.

The pass is valid through August 31, 2020 and grants free entry for fourth graders and three accompanying adults (or an entire car for drive-in parks) at more than 2,000 federally-managed sites.
---


Last updated: January 31, 2023