News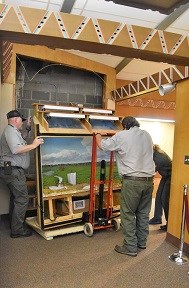 New Museum Exhibits to be Unveiled January 2020
The current exhibits at Pipestone National Monument were installed when the building was constructed in 1958. For the past few years, the park has worked closely with the input, advice, and guidance of the 23 affiliated tribal nations to create new exhibits for the museum.

The impact of the new exhibits will leave visitors with a deeper understanding of the pipe's cultural relevance and a better appreciation for what goes into the process of quarrying.

Installation will begin in June of 2019 and be completed in January. The visitor center will still be open so that visitors may access the film, petroglyph display, and gift shop.
---
Entrance Fees Suspended
Pipestone National Monument has suspended entry fees while we conduct a cost-benefit analysis of the program. Since entry fees are not being collected, we are unable to sell passes, such as the Senior or Annual passes. We can continue to provide to the public Free passes, such as the Access and Military.
---
National Park Service's 'Every Kid Outdoors' Program
Pipestone National Monument is proud to be part of the Every Kid Outdoors program as part of the commitment to protect our nation's unique outdoor spaces and ensure that every American has the opportunity to visit and enjoy them.
Fourth graders nationwide can visit the Every Kids Outdoors website to obtain a pass that provides free access to students and their families to all federally managed lands and waters–including national parks, forests and wildlife refuges.

The pass is valid through August 31, 2020 and grants free entry for fourth graders and three accompanying adults (or an entire car for drive-in parks) at more than 2,000 federally-managed sites.
---
Pipestone National Monument Tourism
Visitation to America's national parks in 2018 exceeded 300 million recreation visits for the fourth consecutive year. The 318.2 million recreation visits total is the third highest since record keeping began in 1904.

Locally, Pipestone National Monument welcomed 73,267 visitors in 2018. Visitation at the monument has remained fairly steady over the last ten years. Pipestone became Minnesota's first national park unit in 1937 and reported 2,785 visitors in 1941, the first year statistics were recorded.

The 419 national parks throughout the country provide a vast array of opportunities for recreation and inspiration for visitors of all ages. With at least one located in every state, national parks are easily accessible and affordable destinations. For an in-depth look at 2018 visitation, including individual park figures, please visit the
NPS Social Science
.
---


Last updated: November 16, 2019