Grasses
North America's prairies evolved over the course of 65 million years and once covered over 140 million acres. In less than 100 years, humans completely altered this vast sea of grass, with less than 2% of the tallgrass prairie remaining.

Pipestone National Monument is home to both restored and remnant prairie (remnant meaning it has never been turned or plowed). In addition to hundreds of wildflowers and plants, more than 70 types of grass currently thrive here. Below are some of the dominant grasses in our tallgrass prairie:
---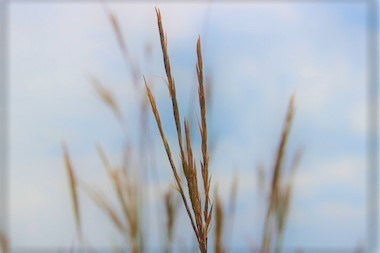 Big Bluestem
Height:
A dominant prairie grass, this species can reach upwards of 8 feet
Root depth:
They are excellent for controlling erosion with roots that can grow 8 feet deep - half of this plant is underground!
Ice cream grass?
This term is sometimes applied to big bluestem since it is often the grass that wildlife will eat first. It is also called 'turkey foot' because the seed heads have 3 spikelets that resemble the foot of a turkey.
A friend of the birds:
Out on the prairie, hiding from predators can be hard. Big bluestem fills that need by providing cover for over 20 species of songbird and even serves as a nesting site for some sparrows, wrens, and meadowlarks.
---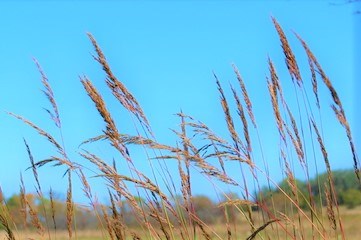 Indiangrass

Height:
3-5 feet
Root depth:
In some soils, they can grow as long as 6 feet
An important member of the tallgrass team:
Indiangrass is one of the key grasses in a tallgrass prairie, growing back with renewed strength after fires. They bloom a beautiful gold color just before autumn for about 2 weeks.
A key identifier:
The ligule (inner part of the leaf sheath where it joins the blade) is pominent and notched at the top, resembling the rear sight on a rifle.
---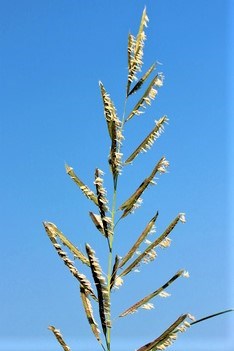 Prairie Cordgrass

Height:
3-8 feet tall
Root depth:
An impressive 6-10 feet
More attention from scientists than from cattle:
Prairie cordgrass is not preferred by livestock, but grows well in marginal soils where crops cannot typically survive and even where soil has been irrigated with salty groundwater. The result is that more and more scientists are looking at cordgrass as an excellent source of biofuel and erosion control.
Distinctive identification:
The seedheads have 10-20 spikes attached to the main stem with upwards of 40 spikelets. The spikelets grow in 2 distinct rows away from the stem.
---


Last updated: March 25, 2019