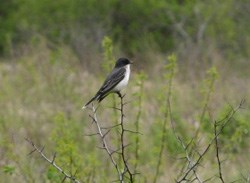 Over one hundred bird species have been documented at Pipestone National Monument although during the spring and fall months, many more migratory species can also be seen. Bird checklists are available at the information desk of the Visitor Center.
Volunteer Birders Needed
Pipestone National Monument and the Heartland Network Inventory and Monitoring Program of the National Park Service Midwest Region are seeking the assistance of volunteer birders to augment an ongoing bird monitoring program. Volunteer birders will receive direction and training in applying standard monitoring techniques to determine the annual distribution and abundance of breeding birds in the park. Volunteers will work closely with the monument's natural resource staff and the Heartland Networks project supervisor in this bird monitoring effort.
To find out more information on this exciting opportunity please contact David Peitz, Wildlife Ecologist at 417-732-6438 ext. 276 or the Monument Chief Ranger at 507-825-5464 ext.219. Please visit the Volunteer In Parks section on the Monument's web site for additional information on volunteering at the Monument.