Quarry Permits
Highlights:
Only members of federally-recognized tribes may apply for quarry permits.
Applicants for annual quarry permits will be placed on a waiting list.
There is no waiting list for the monthly or day/weekly quarry permits.
Quarrying is labor-intensive and may take days, weeks, months, or years to reach the pipestone layer.
Quarriers must supply their own tools.
Short tutorial videos are available for more information.

---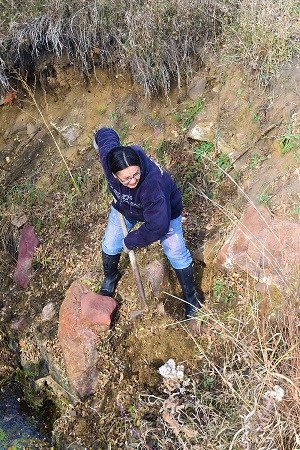 The Purpose of a Quarry Permit
Pipestone National Monument exists to protect the rights of Native Americans to quarry pipestone. Since 1946, the 56 pipestone quarries have been managed by issuing quarry permits to try to ensure fair access and future availability of the stone.

Proof of enrollment issued by a tribal enrollment office (ID cards, affidavits, or certificates) is required before a permit will be issued. This also applies to anyone assisting the quarrier in the actual quarrying process.

Types of Quarry Permits
· Annual: Annual quarry pits are assigned to an individual for one year. Individuals are given the option to renew the permit for their quarry every year, so there is a waiting list of approximately 10 years for new applicants. After turning in the application, we will notify you when a quarry pit is available. Please update us if your contact info changes so we can reach you. If we cannot reach you, we will move on to the next person on the list.

To obtain an annual quarry permit, fill out and return
the application either:

· In person at the visitor center
· Requesting one by phone (507-825-5464 ext. 214)
· Requesting one via email: (pipe_interpretation@nps.gov)

· Monthly: The permit for the monthly quarry pit is good for 30 days. This particular pit is used by multiple people throughout the year. There is no waiting list and you do not need to fill out an application. Simply contact the park and let us know which month you would like to quarry.

· Day/Weekly: The permit for this quarry pit is good for 1-7 days. This particular pit is used by multiple people throughout the year. There is no waiting list and you do not need to fill out an application. Simply contact the park and let us know which days you would like to quarry.
Tools and Equipment
The Monument does not supply tools for quarrying. It is suggested that quarriers bring the following:

- 16-20 lb. sledge hammer
- 3-5 lb. hammer
- 4-5 heavy duty wedges (toughest you can find)
- Pry bar
- Spade/Shovel
- 5 gallon bucket
- Safety glasses (strongly suggested)
- Safety-toe boot (strongly suggested)
- Gloves (suggested)
FAQ
Can I "pick" stone I find lying around the quarries?
No, raw stone only leaves the park by being quarried. Any stone found lying around has been discarded by quarriers due to extremely poor carving quality.

What do I need to do when I first arrive to quarry?
First stop by the visitor center so we can make a copy of your Tribal ID or enrollment papers and you can sign in the quarry book.

Can friends & family quarry with me?
Yes! You can add other individuals to your permit as long as they are enrolled in federally recognized Tribes. We will need to make copies of their Tribal IDs or enrollment papers as well.

How long does it take to get to the pipestone layer?
It all depends on how many people you quarry with and how often you quarry. Plan on at least a weekend, but it can often take much longer.

How far in advance should I let the park know I'm coming?
Please provide us with at least 2 days notice. Sometimes there is standing water in the quarry pits and we will need time to pump the water out for you.

Do I need to sign in every day I quarry?
Yes, for the purpose of record keeping, please sign in the quarry book at the visitor center each day you arrive to quarry.

Permit Conditions
The sale of raw pipestone (since 2007) and pipes (since 2019) within the boundaries of Pipestone National Monument is prohibited. The Monument retains no right as to what a quarrier does with their pipestone once it leaves the Monument. Smaller pipestone crafts may still be offered for sale to the Monument's cooperating association, the Pipestone Indian Shrine Association, located in the Monument visitor center.
All current permits issued to quarry pipestone within Pipestone National Monument contain the following terms and conditions:
1. The Superintendent shall designate the site where the permittee may, during the term of the permit, quarry pipestone. In the absence of the Superintendent, other monument staff will assist with the quarry designation.
2. No fee or other charges shall be made for the issuance of this permit. A copy of this permit will be furnished to the permittee upon request.
3. Upon violation of any permit condition, or any monument laws, rules and regulation this permit may be suspended, revoked, or amended by the Superintendent.
4. The permittee, or quarriers authorized to work in the quarry, are required to sign-in at the Visitor Center information desk prior to each day's work. In the event there has been no sign-in during the preceding year the permit will not be renewed.
5. The quarrying of Pipestone is an inherently dangerous activity, requiring exercise of caution during all phases. Accidents during quarrying involving injury can and do happen. In accepting this quarry permit, permittees assume all risk and responsibility for the personal safety of themselves and all others working with them. All permittees are required to report to the Superintendent any accidents, for first aid assistance, and recording of the incident.
6. Permit activities shall be subject to all laws, rules and regulations governing Pipestone National Monument.
7. Equipment used in the quarrying operation shall include but not be limited to the following hand tools: shovels, picks, wedges, pry-bars, sledge hammers, wheel barrows, and brooms. Any tools powered through electricity or other fuels are prohibited in the quarrying process.
8. When removing pipestone, the permittee shall remove all salvageable pipestone from the quarry prior to expiration of the permit on December 31.
9. When quarrying, if the permittee should encounter artifacts such as arrowheads, stone knives, scrapers, chipped stone tools, mauls, hammer stones, pottery, worked pipestone pieces, or other buried or surface artifacts, please cease quarrying and leave the objects in place. Immediately contact the Superintendent or one of the park rangers. Once the items are documented and recovered by the monument staff, quarrying can resume.
10. In the event that this permit is not renewed by the permittee, or the intent to renew is not indicated to the Superintendent by April 1st, the quarry in question will be reassigned. It is the responsibility of the permittee to make known his/her intent to renew. Due to the increasing demand for quarry permits, this procedure will be strictly followed.
11. Only American Indians enrolled in federally recognized tribes may be involved in the quarrying process. Written proof of tribal enrollment or affiliation is required of the permittee and additional quarriers, verification of enrollment will be checked. Copies of tribal identification will be made for monument records.
12. The permittee must complete the form "List of Additional Quarriers" to ensure all people assisting him/her in the quarrying process are included on the permit. The permittee may submit updated copies to the monument as needed. Additional authorized quarriers must also provide their names, addresses, and tribal identifications. If necessary the permittee may get additional copies from the monument or photocopy the enclosed form.
13. Neither this permit nor any interest therein shall be transferred or assigned.
14. During periods of high groundwater, particularly during the spring and early summer the monument may elect to not pump the quarries. Please call the monument for water level conditions and schedule quarrying accordingly. Monument maintenance staff must be notified two days in advance of arrival for pumping of quarries. Due to liability and safety issues permittees are prohibited from using personally owned pumps or accessories for pumping groundwater from the quarries.
15. The sale of raw pipestone is prohibited within the boundaries of Pipestone National Monument.
Last updated: March 2, 2021