Mission Statement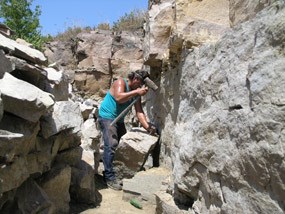 Pipestone National Monument
Mission
Statement
The mission of Pipestone National Monument is to continue to provide for American Indian use and access for the quarrying of the pipestone and cultural uses, to preserve and protect cultural and natural resources, and to provide for the public use, enjoyment, and understanding of Pipestone National Monument.
Purpose
The purpose is:
To administer and protect the pipestone quarries, reserving the quarrying of pipestone for Indians of all tribes,
To preserve, protect, and interpret the cultural and natural resources
To provide for the enjoyment and benefit of all people
Significance
Pipestone National Monument is significant as:
The only location where American Indians have quarried the red pipestone (catlinite) from very early times to the present.
As a sacred site associated with American Indian spiritual belief and cultural activities.
For its history of American Indian and European-American contact and exploration in the early 1800s specific quarrying rights, and the Pipestone Indian School (1893-1953)
Protects significant cultural/ethnographic landscape.
For the landscape it protects, which consists of the tallgrass prairie that developed in association with the site's distinct geologic and hydrologic features. These features combine to provide an unusual array of habitats supporting a diverse assortment of prairie plants and animals and rare habitats, federally listed threatened and endangered species, and globally rare remnant plant communities.
Last updated: April 5, 2018