Cooperating Association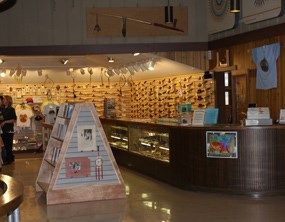 PIPESTONE INDIAN SHRINE ASSOCIATON
The Association cooperates with the National Park Service to preserve the art of pipemaking and assisting in the advancement of historical, scientific, educational and interpretive work of Pipestone National Monument. It's sole purpose, as one of the 65 non-profit cooperating associations operating in 325 units of the National Park Service is to connect visitors with the park through sales items, development of interpretive exhibits, videos and other items that educate visitors.
This cooperative agreement between the Association and the National Park Service enhances the visitor's experience and enjoyment, and assists in the development of a broad public understanding of the American Indians and their history in this area. It aids in the interpretation of archeology, ethnology, history, geology and plant and animal life bearing on the monument region and encourages research by interested scientists; offers books and printed materials on subjects pertaining to the area for sale to the public; and assists in gathering and preserving objects, documents and scientific information which furthers the aim of the educational mission of the National Park Service.
For more information visit the Pipestone Indian Shrine Association web site at www.authenticpipestone.com.


Last updated: June 3, 2019